Cycling
Yoga for Cyclists
Save Up To 60% Off Road Bikes, Bicycles, Mountain Bikes and Bicycles with Bikesdirect.com, New with full warranties
Bicycles >> MetaEfficient Reviews
the online guide to outstanding and specialised cycles.
Welcome 9th April 2014 Getting Started Advice for Beginner Cyclists in Cyclorama's Bike Culture section.
Why Cycle? WhyCycle? - The impartial cycling advice site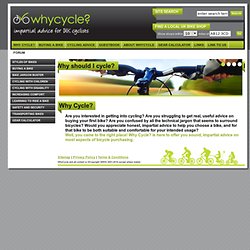 Are you interested in getting into cycling? Are you struggling to get real, useful advice on buying your first bike? Are you confused by all the technical jargon that seems to surround bicycles? Would you appreciate honest, impartial advice to help you choose a bike, and for that bike to be both suitable and comfortable for your intended usage?Well, you came to the right place!
An amazing range of guided, self-guided or tailor made cycling holidays. Choose from road cycling, mountain biking, cycling adventures, leisure cycling or family holidays in the UK, Europe and throughout the world. .. Read More As well as our scheduled range of cycling holidays we offer custom made / bespoke cycling packages. These are great for groups of friends and corporate organizers, people who want something new and original or those who want to customize an existing cycling tour to make it harder or easier, longer or shorter.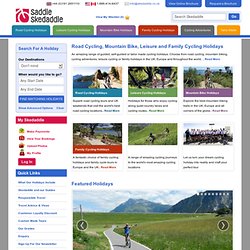 Guided and Self Guided Cycling Holidays, Mountain Bike Holidays and Road Cycling Holidays
blog
During the week of September 10th through September 15th 2012, cyclists from around the world including Australia, France, Russia, Scotland, USA, Canada, and the Netherlands will gather on SR305 outside of Battle Mountain, Nevada for the 13th consecutive year of racing on what is arguably the straightest, smoothest and most ideal road surface in the world for HPV records. The 4,619ft (1,408m) altitude road allows riders an acceleration zone of over 4 miles, enabling them to reach their maximum velocity before being timed over a 200 meter distance. The section of the road used for this event was newly refinished in 2009, with a smooth surface specially prepared for human powered cycle racing by Frehner Construction and the Nevada Department of Transportation using a Nevada Department of Tourism Grant from the US government. Be sure to follow the action daily, check the event website for links, updates, results and photos!