MEJOR VIDA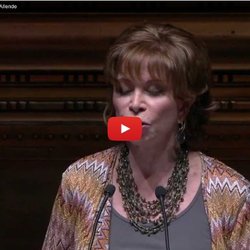 ▶ Conferencia Magistral con Isabel Allende
This video is currently unavailable. Sorry, this video is not available on this device. by $author Share this playlist Cancel
Log in Correo electrónico Password
tu Ola
Carrot
Conoce Más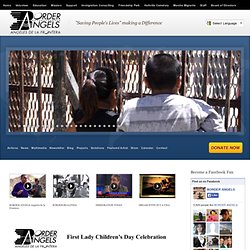 BORDER ANGELS Angeles de la Frontera BORDER ANGELS VIDEOthanks Norman Mackinnon Border Angels Dinner Pictureshttp://creativeimagesphoto.smugmug.com/Other/Border-Angels-November-9-2013/33353746_mnRMS5#!i=2896702348&k=rbdRmbz (thanks Memo) Thanks again all, for our best dinner ever !!!
Border Angels 619-269-7865
Why I Protest: Javier Sicilia of Mexico - TIME's People Who Mattered in 2011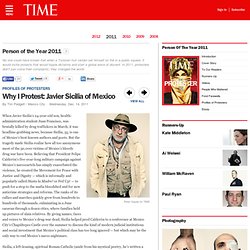 When Javier Sicilia's 24-year-old son, health-administration student Juan Francisco, was brutally killed by drug traffickers in March, it was headline-grabbing news, because Sicilia, 55, is one of Mexico's best-known authors and poets. But the tragedy made Sicilia realize how all too anonymous most of the 50,000 victims of Mexico's bloody drug war have been. Believing that President Felipe Calderón's five-year-long military campaign against Mexico's narcocartels has simply exacerbated the violence, he created the Movement for Peace with Justice and Dignity — which is informally and popularly called Hasta la Madre! or Fed Up! — to push for a stop to the mafia bloodshed and for new anticrime strategies and reforms.
Red Global por la Paz en México
The Caravan of Solace - Mexico's movement for Peace
MIDE AC | Migración y Desarrollo A.C. | México - USA
Como elegir la mejor Afore en México | Mi Afore 2012 Afores Banamex Bancomer Principal SURA Siglo XXI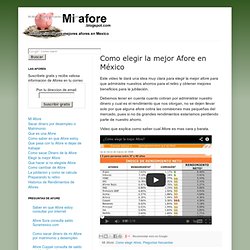 Este video te dará una idea muy clara para elegir la mejor afore para que administre nuestros ahorros para el retiro y obtener mejores beneficios para la jubilación. Debemos tener en cuenta cuanto cobran por administrar nuestro dinero y cual es el rendimiento que nos otorgan, no se dejen llevar solo por que alguna afore cobra las comisiones mas pequeñas del mercado, pues si no da grandes rendimientos estaríamos perdiendo parte de nuestro ahorro. Video que explica como saber cual Afore es mas cara y barata.
Como elegir la mejor Afore en México. Para elegir una AFORE es conveniente comparar estos tres factores que son: Rendimiento (-menos) Comisión = Rendimiento Neto. Hay que tomar en cuenta cuáles son las comisiones por administrar la cuenta, ya que cada administradora de fondos para el retiro tiene diferentes tasas, los rendimientos que ofrecen para saber el monto de las ganancias que se obtienen por el manejo de los recursos y por último el servicio que brindan porque cada AFORE puede ofrecer servicios extras como más sucursales, opciones de consulta de saldos, asesorías, amabilidad, envío de estados de cuenta. De acuerdo al artículo 37 C de la Ley del SAR "Las administradoras, con base en los datos de la cuenta individual del trabajador, deberán dar a conocer a éste, expresado en moneda nacional, el cálculo aproximado que le cobrarán por concepto de comisiones durante el año calendario próximo".
Mi Afore 2012 Afores Banamex Bancomer Principal SURA Siglo XXI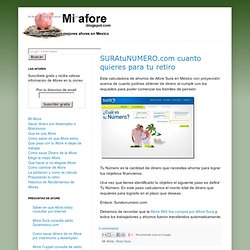 The possibilities
Acompáñanos a la presentación de la Revista Barrial de Desinformémonos "Nadie es ilegal" Presentarán este número - Monseñor Raúl Vera López, obispo de Saltillo- Marta Sánchez, del Movimiento Migrante Mesoamericano- Daniela Pastrana, de Periodistas de a Pie- Madres de Guatemala, Honduras, El Salvador y Nicaragua en busca de sus hijos migrantes- Gloria Muñoz Ramírez, directora de Desinformémonos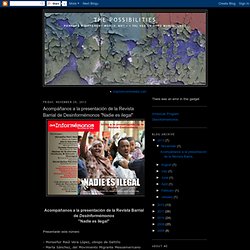 MAXIMO COMPROMISO
The Reclama Tu Poder Personal - SMS Short Code 58885 with Keyword 88461 1. When you opt-in via a website we will send you an SMS message to confirm your signup.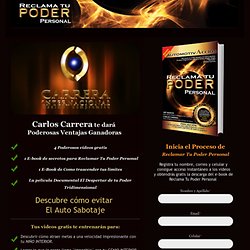 CARRERA INTERNACIONAL
Bustos Web Site - MyHeritage.com
Siscu Parés Ciudad Juárez.WMV
Two LRA commanders have been removed from the battlefield, Maj. Gen. Ceasar Acellam and Lt. Colonel Vincent Binansio "Binani" Okumu. 44 radio operators from CAR and DR Congo were trained on using the Early Warning Radio Network to protect themselves and their communities in December 2012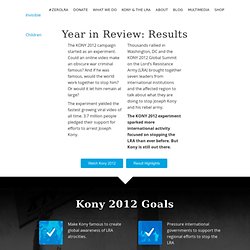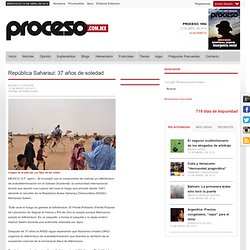 República Saharaui: 37 años de soledad
MEXICO, D.F. (apro).- Al incumplir con el compromiso de realizar un referéndum de autodeterminación en el Sahara Occidental, la comunidad internacional tendrá que asumir una ruptura del cese el fuego que prevale desde 1991, advierte el canciller de la República Árabe Saharaui Democrática (RASD), Mohamed Salem. "Este cese el fuego es gemelo al referéndum. El Frente Polisario (Frente Popular de Liberación de Saguía el Hamra y Río de Oro) lo aceptó porque Marruecos aceptó el referéndum.