Hee hee hee...
DO SOMETHING MUTTLEY!!!
C'mon Son 4. Charlie Brooker's Screenwipe. Screenwipe is a television programme, presented by comedian Charlie Brooker, which reviews other British television programmes with a caustic and humorous tone.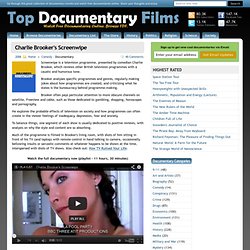 Brooker analyses specific programmes and genres, regularly making jokes about how programmes are created, and criticizing what he states is the bureaucracy behind programme-making. Brooker often pays particular attention to more obscure channels on satellite, Freeview and cable, such as those dedicated to gambling, shopping, horoscopes and pornography.
He explores the probable effects of television on society and how programmes can often create in the viewer feelings of inadequacy, depression, fear and anxiety. To balance things, one segment of each show is usually dedicated to positive reviews, with analysis on why the style and content are so absorbing. Charlie Brooker's Gameswipe. Charlie Brooker sets his caustic sights on video games.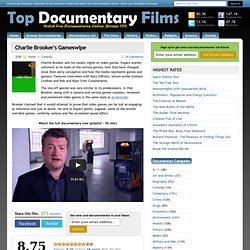 Expect acerbic comment as he looks at the various genres, how they have changed since their early conception and how the media represents games and gamers. Features interviews with Dara O'Briain, sitcom scribe Graham Linehan and Rab and Ryan from Consolevania. The one-off special was very similar to its predecessors, in that Brooker, along with a camera and various games consoles, reviewed and previewed video games in the same style as Screenwipe. Charlie Brooker's Newswipe. Following the success of Charlie Brooker's Screenwipe, BBC Four has commissioned Zeppotron to produce a brand new series – Charlie Brooker's News Wipe.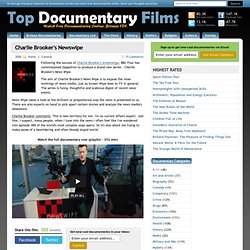 The aim of Charlie Brooker's News Wipe is to expose the inner workings of news media, just as Screen Wipe does to TV in general. The series is funny, thoughtful and scabrous digest of recent news events. News Wipe takes a look at the brilliant or preposterous way the news is presented to us. There are also experts on hand to pick apart certain stories and analyze the news media's obsessions. British humour. A strong theme of sarcasm and self-deprecation, often with deadpan delivery, runs throughout British humour.[2] Emotion is often buried under humour in a way that seems insensitive to other cultures.[3] Jokes are told about everything and almost no subject is taboo, though often a lack of subtlety when discussing controversial issues is considered crass.[4] Many UK comedy TV shows typical of British humour have been internationally popular, and have been an important channel for the export and representation of British culture to the international audience.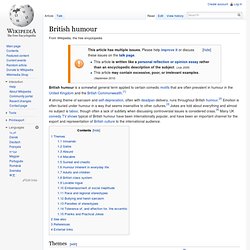 Themes[edit] Some themes (with examples) that underpinned late 20th century British humour were:[5] Muttley Laugh.
Comedy heros. College humor & hishe.
---