Sites
Le W Barcelona propose une expérience contemporaine de style de vie, assortie d'une offre intégrale de services. Le fameux Whatever/Whenever, qui offre aux clients tout ce qu'ils désirent, 24h/24, 7 jours/7, depuis la location d'un yacht privé pour une excursion le long de la côte méditerranéenne jusqu'à une tournée privilégiée des magasins de mode et de designers espagnols en vogue, bref, tout ce que vous voulez et quand vous le voulez, dans les limites de la légalité, bien entendu! L'hôtel comprend 473 chambres, dont 67 suites, 2 suites WOW et une Extreme WOW.
Hôtel W BARCELONA by Ricardo Bofill - Barcelone - ESPAGNE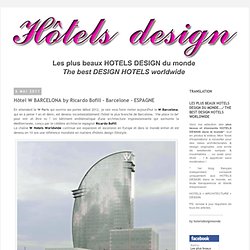 Dexigner
2014 RIBA Research Trust Awards Brandimage Creates New Cards for Europcar Privilege ProgramEuropcar is extending its loyalty program to include new advantages and is launching a new "Elite VIP" category to reward its most loyal customers. Earthquakes: How Well Are We PreparedThe Center for Architecture will host a panel discussion, titled, "Earthquakes How well are we prepared," on March 24. Michael Graves: A Case for Humanistic Solutions in Healthcare DesignThe New York School of Interior Design will host Michael Graves on March 26. Graves will speak about the foundation of his design philosophy and how a personal healthcare tragedy focused his attention on improving healthcare experiences by design.
since 1999 home of design culture, leading independent publication for design, architecture, art, photography and graphics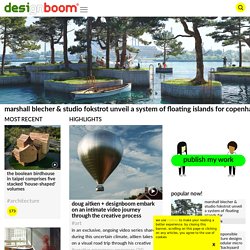 apr 04, 2014 WATCH: naoto fukasawa elaborates on the company's attention to craftsmanship, and his own approach to » 0 shares last week designboom attended the inaugural mextropoli architecture festival in mexico city. the balloon-powered internet system will begin its 2nd lap, where it will traverse over the pacific ocean » 54 shares
Architecture | Home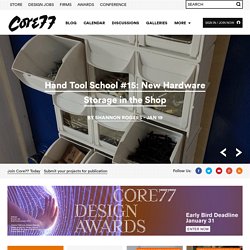 Core77 / industrial design magazine + resource / home
Posted by Kat Bauman | 4 Apr 2014 | Comments (0) "Shape" is a fun animated exploration of what design can mean and how it shapes our experiences. It's the heart of a project by PIVOT Dublin that has grown over the last few years to include an informative website, educational program and outreach campaign. All of the elements aim to educate the youths (and the public at large) about creative work and history around design. Gently soundtracked and wordless—the better to communicate universally—it invites you to think about what you'd change to make your world work better. And, of course, it's beautifully executed.
PicCells, un mobilier pneumatique d'Igor Lobanov
Ce n'est pas pour rien que l'objet que vous découvrez a obtenu le 5ème prix du design international (IDA). Cette splendide création baptisée PicCells est l'oeuvre du designer Igor Lobanov. Il s'agit d'un meuble-canapé qui regroupe un ensemble interconnecté de cellules longilignes gonflables. L'ensemble tient dans un coffret quand les cellules sont dégonflées.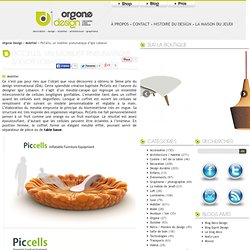 Le Bal Pop'La Bâronne d'Paname + Les Balochiens L'école de cirque de Rosny et Bertrand BossardToute gueule raisonnable... Bertrand BossardVisites déguidées GONGLE, foot et théâtreLa causerie d'avant match C'Le Chantier : Meludia jeu d'éveil musicalà partir de 7 ans Atelier Stop Motionpour les 9-12 ans
CENTQUATRE
La tendance moderniste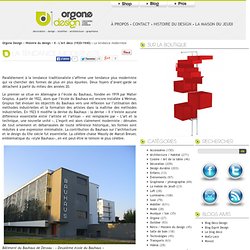 Parallèlement à la tendance traditionaliste s'affirme une tendance plus moderniste qui va chercher des formes de plus en plus épurées. Deux foyers d'avant-garde se détachent à partir du milieu des années 20. Le premier se situe en Allemagne à l'école du Bauhaus, fondée en 1919 par Walter Gropius. A partir de 1922, alors que l'école du Bauhaus est encore installée à Weimar, Gropius fait évoluer les objectifs du Bauhaus vers une réflexion sur l'utilisation des méthodes industrielles et la formation des artistes dans la maîtrise des méthodes industrielles. En 1923 il modifie la devise du Bauhaus : la devise « Il n'existe aucune différence essentielle entre l'artiste et l'artisan » est remplacée par « L'art et la technique, une nouvelle unité ».
JP DUBS : Archives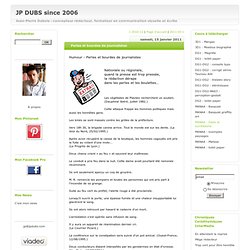 Humour - Perles et bourdes de journalistes Nationale ou régionale, quand la presse est trop pressée, la rédaction dérape dans les perles et les boulettes… Les cégétistes de Playtex recherchent un soutien. (Dauphiné libéré, juillet 1982.) Cette attaque frappe les hommes politiques mais aussi les honnêtes gens. Les kinés se sont massés contre les grilles de la préfecture.
Affiches de mucha - biographie mucha