Medicine
Chemistry News, Videos, Reviews and Gossip - io9. They induced the gastric lesions in question with a milliliter of ethanol.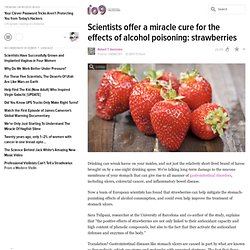 The rats massed about 200 grams. A human masses about 70 kilograms. Hence, the dose equivalent would be 350 milliliters. Typical hard alcohols are around "80 proof" or 40% ethanol these days, so that corresponds to 875 milliliters. With a "shot" of whiskey being about one and a half fluid ounces, that works out to a little under twenty shots. Snake Oil? The scientific evidence for health supplements. Follow us on Twitter | Facebook See the data: bit.ly/snakeoilsupps.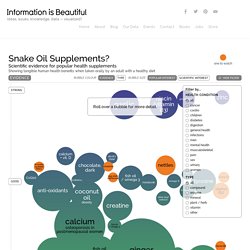 See the static version Check the evidence for so-called Superfoods visualized. Note: You might see multiple bubbles for certain supplements. These is because some supps affect a range of conditions, but the evidence quality varies from condition to condition. Psilocybin, the Drug in 'Magic Mushrooms,' Lifts Mood and Increases Compassion Over the Long Term - - TIME Healthland.
The psychedelic drug in magic mushrooms may have lasting medical and spiritual benefits, according to new research from Johns Hopkins School of Medicine.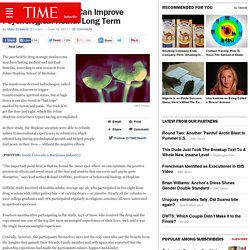 The mushroom-derived hallucinogen, called psilocybin, is known to trigger transformative spiritual states, but at high doses it can also result in "bad trips" marked by terror and panic. The trick is to get the dose just right, which the Johns Hopkins researchers report having accomplished. 061-haagengirl2c.jpg (JPEG Image, 405×550 pixels) Blog » Blog Archive » 23 Surprisingly Effective Treatments for Depression (One Year Later)
For the live-updated, interactive version of this infographic, click here.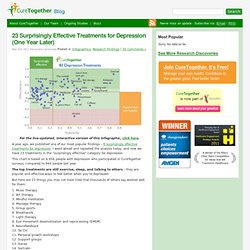 A year ago, we published one of our most popular findings – 6 surprisingly effective treatments for depression. I went ahead and repeated the analysis today, and now we have 23 treatments in the "surprisingly effective" category for depression. This chart is based on 4,956 people with depression who participated in CureTogether surveys, compared to 944 people last year. The top treatments are still exercise, sleep, and talking to others – they are popular and effective ways to feel better when you're depressed. But here are 23 things you may not have tried that thousands of others say worked well for them:
---