ArtWorks
Creative Activism #creativact. Culture Eats Strategy For Lunch. Get on a Southwest flight to anywhere, buy shoes from Zappos.com, pants from Nordstrom, groceries from Whole Foods, anything from Costco, a Starbucks espresso, or a Double-Double from In N' Out, and you'll get a taste of these brands' vibrant cultures.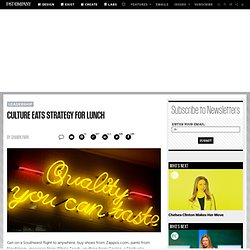 Culture is a balanced blend of human psychology, attitudes, actions, and beliefs that combined create either pleasure or pain, serious momentum or miserable stagnation. A strong culture flourishes with a clear set of values and norms that actively guide the way a company operates. Employees are actively and passionately engaged in the business, operating from a sense of confidence and empowerment rather than navigating their days through miserably extensive procedures and mind-numbing bureaucracy. Performance-oriented cultures possess statistically better financial growth, with high employee involvement, strong internal communication, and an acceptance of a healthy level of risk-taking in order to achieve new levels of innovation.
The $100bn Facebook question: Will capitalism survive 'value abundance'? Chiang Mai, Thailand - Does Facebook exploit its users?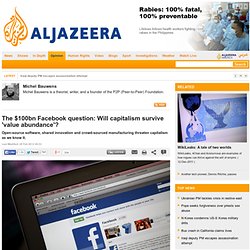 And where is the $100bn in the company's estimated value coming from? This is not a new debate. It resurfaces regularly in the blogosphere and academic circles, ever since Tiziana Terranova coined the term "Free Labour" to indicate a new form of capitalist exploitation of unpaid labour - firstly referring to the viewers of classic broadcast media, and now to the new generation of social media participants on sites such as Facebook. The argument can be summarised very succinctly by the catch phrase: "If it's free, then you are the product being sold.
" Newsletter - Vol 9 Issue 6 - International news from the Cultural Contact Point. The Arts Council hosts the EU Cultural Contact Point Ireland: your resource for European funding for culture The Culture Programme 2007–2013 was established to enhance the cultural area shared by all Europeans, which is based on a common cultural heritage through the development of cooperation activities among cultural operators from 37 eligible countries.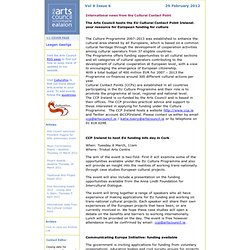 The Programme offers funding opportunities to all cultural sections and all categories of cultural operators contributing to the development of cultural cooperation at European level, with a view to encouraging the emergence of European citizenship.With a total budget of 400 million EUR for 2007 – 2013 the Programme co-finances around 300 different cultural actions per year. Funding - The European Cultural Contact Point Ireland. In this section of the website you will find information on every aspect of funding under the Creative Europe Culture Sub-Programme 2014-2020 including: making an application; funding deadlines;guidelines for each funding scheme and how to find project partners.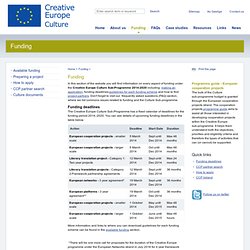 Don't forget to visit our frequently asked questions (FAQ) section, where we list commons issues related to funding and the Culture Sub-programme. Funding deadlines The Creative Europe Culture Sub-Programme has a fixed calendar of deadlines for the funding period 2014–2020. You can see details of upcoming funding deadlines in the table below. Available funding - The European Cultural Contact Point Ireland. The Creative Europe Culture Sub-programme has four main funding schemes each for a particular type of action.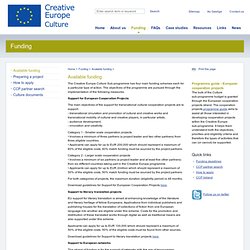 The objectives of the programme are pursued through the implementation of the following measures. Support for European Cooperation Projects The main objectives of the support for transnational cultural cooperation projects are to support: - transnational circulation and promotion of cultural and creative works and transnational mobility of cultural and creative players, in particular artists; - audience development; - innovation and creativity. Mark Pagel: culture is central to human success | Technology | The Observer. Mark Pagel is head of the Evolution Laboratory at the School of Biological Sciences, University of Reading.
He has travelled the world studying evolution and the spread of cultures. He is also the author of Wired for Culture: The Natural History of Human Cooperation, in which he argues that human culture has surpassed genes in determining who we are and how we live. You argue that culture exercises a sort of mind control over us? Some people think culture is a virus that infects our minds and controls us in ways that don't serve us but serve it; I actually think we've tamed it so that it serves us quite exquisitely. We've actually evolved to embrace our cultures and allow them a degree of mind control over us in return for the prosperity and protection they give in return.
---