Serialization
Control::Flow - ISerializationSurrogate
First off, my apologies for not posting the second part earlier. I have had a lot to do in the past Months… Part II of the article will show how a SerializationSurrogate works and explore wheter we can use it for generic de-serialization of DependencyProperties.
DependencyProperty Serialization Part II: ISerializationSurrogate, Reflection Magic and a strange Exception | emphess .NET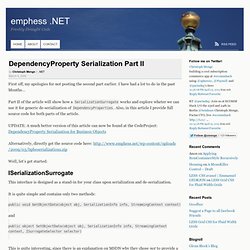 While storing information in memory is great, there comes a time your users will have to shut your application down.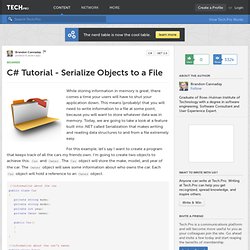 C# Tutorial - Serialize Objects to a File
C# Tutorial - XML Serialization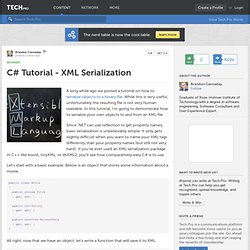 A long while ago we posted a tutorial on how to serialize objects to a binary file. While this is very useful, unfortunately the resulting file is not very human readable.