Politics
The intelligent argument for legalizing pot. Groups all around the country are campaigning to legalize marijuana in California.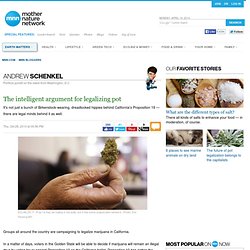 In a matter of days, voters in the Golden State will be able to decide if marijuana will remain an illegal drug by voting for or against Proposition 19 on the California ballot. Proposition 19 has gotten the attention of groups all around the country, and those hoping to "legalize it" don't exactly fit the cliché of dreadlocked, jobless, munchie-craving stoners. Thousands of miles away from California's borders, in one of the squarest, lamest and uptight cities in the nation (Washington, D.C.), law students at one of America's most prestigious universities are making the "intelligent" argument for legalization.
Annotated Constitution Prototype TOC. Changing Geopolitical landscape of 20th C. Income Distribution by Country - VisualEconomics.com. International - the global coalition against corruption. With governments committing huge sums to tackle the world's most pressing problems, from the instability of financial markets to climate change and poverty, corruption remains an obstacle to achieving much needed progress.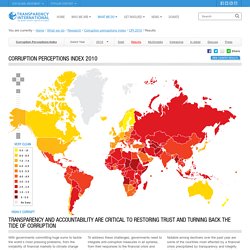 The 2010 Corruption Perceptions Index shows that nearly three quarters of the 178 countries in the index score below five, on a scale from 10 (highly clean) to 0 (highly corrupt). These results indicate a serious corruption problem. To address these challenges, governments need to integrate anti-corruption measures in all spheres, from their responses to the financial crisis and climate change to commitments by the international community to eradicate poverty. Transparency International advocates stricter implementation of the UN Convention against Corruption, the only global initiative that provides a framework for putting an end to corruption.
European History Interactive Map.
Forbes Magazine's List of The World's Most Powerful People. Starting in 2009, Forbes Magazine compiles an annual list of the world's most powerful people.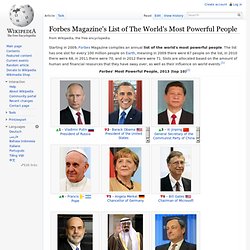 The list has one slot for every 100 million people on Earth, meaning in 2009 there were 67 people on the list, in 2010 there were 68, in 2011 there were 70, and in 2012 there were 71. Slots are allocated based on the amount of human and financial resources that they have sway over, as well as their influence on world events.[1] Forbes' Most Powerful People, 2013 (top 10)[2]
Marxism
Left Right Stupidity. State of the Nation. Conservative policies transformed the United States from the largest creditor nation to the largest debtor nation in just a few years, and it has only gotten worse since then: Working people's share of the benefits from increased productivity took a sudden turn down: This resulted in intense concentration of wealth at the top: And forced working people to spend down savings to get by: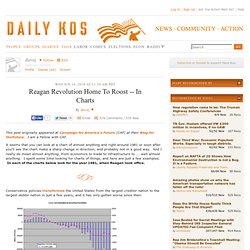 Calif. Dem reintroduces public option for health insurance | Raw Story. By Sahil KapurThursday, January 6, 2011 7:21 EDT Even as Republicans gear up for a vote to repeal health care reform, one progressive House member is making a renewed push for the public option.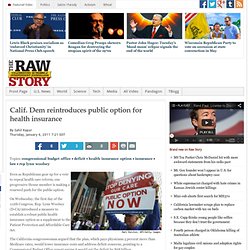 On Wednesday, the first day of the 112th Congress, Rep. Lynn Woolsey (D-CA) introduced a measure to establish a robust public health insurance option as a supplement to the Patient Protection and Affordable Care Act. The California congresswoman argued that the plan, which pays physicians 5 percent more than Medicare rates, would lower insurance costs and address deficit concerns, pointing to a Congressional Budget Office report saying it would cut the deficit by $68 billion.
The rise and fall of the Republican Revolution. Newt Gingrich and fellow Republicans announce their "Contract with America" AS THE Republicans get ready to take over the House of Representatives, the last time that they had a majority--during the "Republican Revolution" of 1994--is fresh in their minds.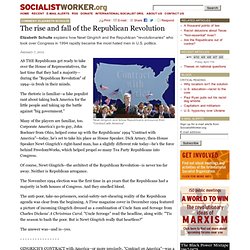 The rhetoric is familiar--a fake populist rant about taking back America for the little people and taking up the battle against "big government. " Many of the players are familiar, too. Corporate America's go-to guy, John Boehner from Ohio, helped come up with the Republicans' 1994 "Contract with America"--today, he's set to take his place as House Speaker. Dick Armey, then-House Speaker Newt Gingrich's right-hand man, has a slightly different role today--he's the force behind FreedomWorks, which helped propel so many Tea Party Republicans into Congress. GOP bends its own new House rules - Jake Sherman. What Palin's show says about us. By Nick Jans Sarah Palin's Alaska, a TLC miniseries, has been quite a spectacle.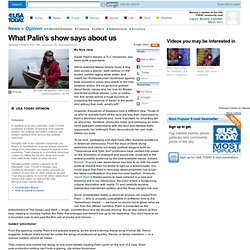 We've watched Mama Grizzly mush a dog sled across a glacier; stalk caribou on the tundra; paddle raging white water; and match her frontierswoman sturdiness against Kate Gosselin's urban diva shtick. In the lulls between action, the ex-governor gushed about family values and her love for Alaska, and threw political elbows. Love or loathe her, this series seems a huge success at projecting the essence of Sarah to the world. And without that myth, what's left? Study Confirms That Fox News Makes You Stupid. December 14, 2010 | Like this article?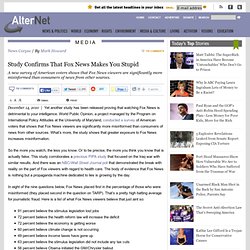 Join our email list:
---