Archives ouvertes
SHERPA - JULIET - Research funders' open access policies
DRIVER - Digital Repository Infrastructure for European Research
Institutional Repository Bibliography
The Institutional Repository Bibliography (IRB) presents selected English-language articles, books, technical reports, and other scholarly textual sources that are useful in understanding institutional repositories. (See the scope note for further details.) Most sources have been published between 2000 and the present; however, a limited number of key sources published prior to 2000 are also included. Where possible, links are provided to works that are freely available on the Internet, including e-prints in disciplinary archives and institutional repositories.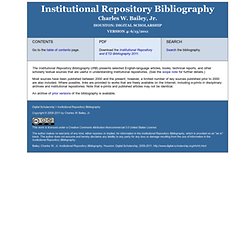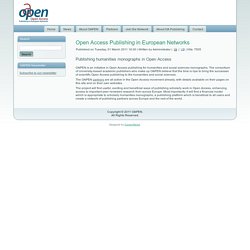 OAPEN.ORG :: Home
Publishing humanities monographs in Open Access OAPEN is an initiative in Open Access publishing for humanities and social sciences monographs. The consortium of University-based academic publishers who make up OAPEN believe that the time is ripe to bring the successes of scientific Open Access publishing to the humanities and social sciences. The OAPEN partners are all active in the Open Access movement already, with details available on their pages on this site and on their own websites.
UNECA IR Home
In its 50 years of existence, UNECA has created and holds a vast quantity of information and Knowledge in a variety of formats, including printed and electronic. These represent the corporate memory, providing historical evidence of its actions and decisions. The information resources include published materials such as flagship publications, journal articles, conference proceedings, technical reports, mission reports, annual reports, working papers, speeches and other grey literature, all which outline important research or decisions that have been made on the economic and social developmental aspects in Africa.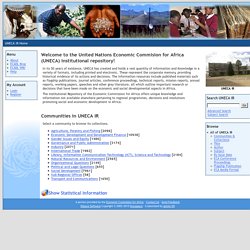 Üdvözöljük a nyílt hozzáférés információs portálján! A portál rendszerezett és aktuális információkat szolgáltat a nyílt hozzáférés (open access vagy OA), illetve a tudományos kommunikáció új irányai iránt érdeklődők számára. Az "open access" fogalom a tudományos, illetve kutatási információkhoz és adatokhoz való korlátok nélküli, nyílt hozzáférést jelenti. Az open-access.hu oldalain a nyílt hozzáférés elveiről és gyakorlatáról talál információkat. Részletesen olvashat a nyílt hozzáférésű folyóiratokról, repozitóriumokról, a mozgalom eredetéről, üzleti modellekről és szerzői jogokról.
Open Access | www.open-access.hu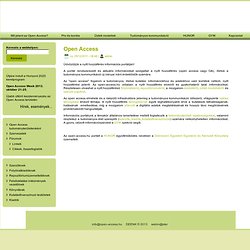 Auteursrechtelijke garanties voor Open Access Last Updated on Friday, 17 January 2014 15:10 10 Januari 2014 diende Joost Taverne, fractielid voor de VVD in de Tweede Kamer, een amendement in voor een wijziging van de Auteurswet die gericht is op het open access beschikbaar stellen van wetenschappelijk werk. Het amendement geeft een auteur het recht om zijn gepubliceerde artikelen, als die met openbare middelen zijn gefinancierd, na verloop van een redelijke termijn gratis via internet beschikbaar te stellen, bijvoorbeeld door deze te plaatsen in een instellingsrepository van zijn universiteit. Belangrijk is dat de auteur dit recht heeft, ook al heeft hij het auteursrecht op zijn artikel overgedragen aan bijvoorbeeld een uitgever.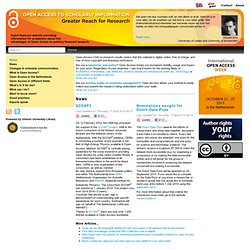 Openaccess.nl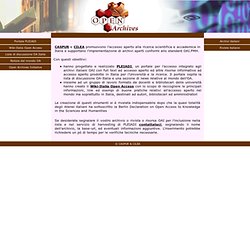 CASPUR e CILEA promuovono l'accesso aperto alla ricerca scientifica e accademica in Italia e supportano l'implementazione di archivi aperti conformi allo standard OAI.PMH. Con questi obiettivi: hanno progettato e realizzato PLEIADI, un portale per l'accesso integrato agli archivi italiani OAI con full text ad accesso aperto ed altre risorse informative ad accesso aperto prodotte in Italia per l'Università e la ricerca. Il portale ospita la lista di discussione OA-Italia e una sezione di news relative al mondo dell'OA. insieme ad un gruppo di lavoro formato da docenti e bibliotecari delle università hanno creato il Wiki-Italia Open Access con lo scopo di raccogliere le principali informazioni, link ed esempi di buone pratiche relativi all'accesso aperto nel mondo ma soprattutto in Italia, destinati ad autori, bibliotecari ed amministratori
OPENARCHIVES.IT
Open access för vetenskapliga publikationer ger ökad synlighet och tillgänglighet Open access – publicering av vetenskapliga resultat fritt på internet – skapar en ökad tillgänglighet för resultaten av dagens forskning och lägger en grund för framtida forskning. Open access är idag på väg att bli normen för att sprida vetenskaplig information på nätet. Att resultaten av offentligt finansierad forskning ska vara tillgängliga för alla framstår som allt mer självklart för alla som är involverade i dagens forskning. Kravet på fri tillgänglighet till forskningspublikationer ställs nu både på nationell och på europeisk nivå av forskare, universitet, forskningsfinansiärer och myndigheter. Vad är OpenAccess.se?
Open access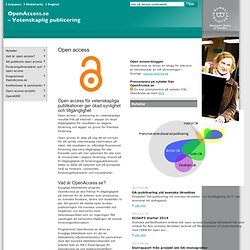 Open access handler om fri adgang til videnskabelige publikationer. Formålet med denne side er at give en introduktion til begrebet open access, samt at informere om udvalgte open access tiltag i Danmark og internationalt. Siden henvender sig primært til forskere ved videregående uddannelsesinstitutioner. Open-access.dk er udgivet af DEFF i samarbejde med Dansk Open Access Netværk. Alt materiale på siden er frigivet under en Creative Commons navngivelse-ikke-kommerciel-del på samme vilkår 2.5 licens.
Open-Access.dk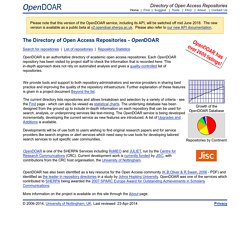 The Directory of Open Access Repositories - OpenDOAR Search for repositories | Search repository contents | List of repositories | Repository Statistics OpenDOAR is an authoritative directory of academic open access repositories. Each OpenDOAR repository has been visited by project staff to check the information that is recorded here.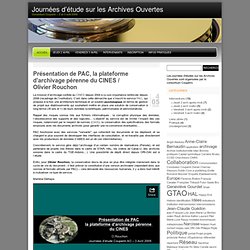 La présentation de la nouvelle organisation du CCSD par Angel Alastuey est l'occasion de rappeler les objectifs de HAL, sa volonté pluridisciplinaire. Un comité de pilotage (CPAO) pilote HAL (le CCSD en reste l'opérateur), il est composé surtout de scientifiques, pas d'institutionnels (sauf les responsables du CCSD) ; il est mandaté pour mener des actions concrètes de sensibilisation des chercheurs, organiser la validation scientifique (modération de HAL : actuellement, seul un contrôle sommaire des documents est effectué, les scientifiques du CPAO vont garantir la validité scientifique de ce qui est déposé), faire le lien avec les autres acteurs de l'IST : mettre HAL au service des établissements et de ses partenaires en leur proposant plus d'interactivité, pour que HAL soit plus qu'un simple dépôt. Avoir une AO sans budget, c'est possible !
Journées d'étude sur les Archives Ouvertes
In this month of April, ORBi has reached a new landmark: 60,000 references, of which over 36,000 (60%) are provided with full text versions (50% of them available on open access). An international visibility which is booming as we can observe on average over a thousand daily downloads which originate from all over the world! Open Access today: becoming more and more essential! Currently over 20% of the whole of the world's academic and scientific literature is already available on Open Access: 8.5% in periodicals on open access and 11.9% via institutional repositories (Björk, 2010), figures which are constantly growing.
Actualités
Standards for Web Content Interoperability The Open Archives Initiative develops and promotes interoperability standards that aim to facilitate the efficient dissemination of content. OAI has its roots in the open access and institutional repository movements. Continued support of this work remains a cornerstone of the Open Archives program.
Archives Ouvertes
Libre accès à l'information scientifique et technique