Archives ouvertes
SHERPA - JULIET - Research funders' open access policies. DRIVER - Digital Repository Infrastructure for European Research. Institutional Repository Bibliography. The Institutional Repository Bibliography (IRB) presents selected English-language articles, books, technical reports, and other scholarly textual sources that are useful in understanding institutional repositories.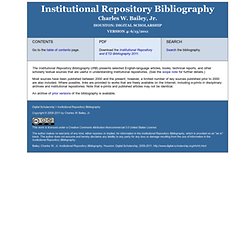 (See the scope note for further details.) Most sources have been published between 2000 and the present; however, a limited number of key sources published prior to 2000 are also included. Where possible, links are provided to works that are freely available on the Internet, including e-prints in disciplinary archives and institutional repositories. OAPEN.ORG :: Home. UNECA IR Home. Open Access | www.open-access.hu. Openaccess.nl. OPENARCHIVES.IT. Open access. Open access för vetenskapliga publikationer ger ökad synlighet och tillgänglighet Open access – publicering av vetenskapliga resultat fritt på internet – skapar en ökad tillgänglighet för resultaten av dagens forskning och lägger en grund för framtida forskning.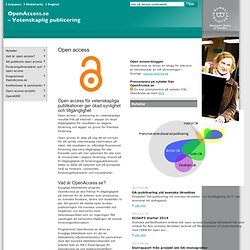 Open access är idag på väg att bli normen för att sprida vetenskaplig information på nätet. Att resultaten av offentligt finansierad forskning ska vara tillgängliga för alla framstår som allt mer självklart för alla som är involverade i dagens forskning. Kravet på fri tillgänglighet till forskningspublikationer ställs nu både på nationell och på europeisk nivå av forskare, universitet, forskningsfinansiärer och myndigheter. Vad är OpenAccess.se? Open-Access.dk. Home Page - Directory of Open Access Repositories. Journées d'étude sur les Archives Ouvertes. Actualités. In this month of April, ORBi has reached a new landmark: 60,000 references, of which over 36,000 (60%) are provided with full text versions (50% of them available on open access).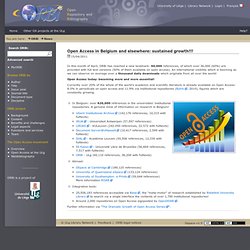 An international visibility which is booming as we can observe on average over a thousand daily downloads which originate from all over the world! Open Access today: becoming more and more essential! Currently over 20% of the whole of the world's academic and scientific literature is already available on Open Access: 8.5% in periodicals on open access and 11.9% via institutional repositories (Björk, 2010), figures which are constantly growing. Open Archives Initiative. CCSd - Centre pour la Communication Scientifique Directe. Archives Ouvertes. Libre accès à l'information scientifique et technique.
---