Archives ouvertes
SHERPA - JULIET - Research funders' open access policies
DRIVER - Digital Repository Infrastructure for European Research
Institutional Repository Bibliography
The Institutional Repository Bibliography (IRB) presents selected English-language articles, books, technical reports, and other scholarly textual sources that are useful in understanding institutional repositories.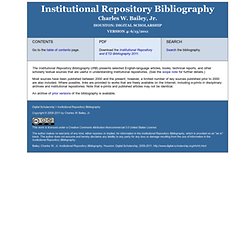 OAPEN.ORG :: Home
UNECA IR Home
Open Access | www.open-access.hu
Openaccess.nl
OPENARCHIVES.IT
Open access för vetenskapliga publikationer ger ökad synlighet och tillgänglighet Open access – publicering av vetenskapliga resultat fritt på internet – skapar en ökad tillgänglighet för resultaten av dagens forskning och lägger en grund för framtida forskning.
Open access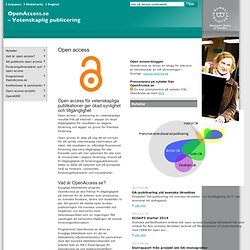 Open-Access.dk
Journées d'étude sur les Archives Ouvertes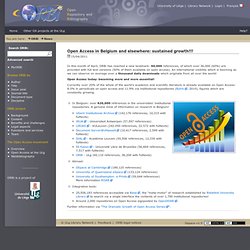 In this month of April, ORBi has reached a new landmark: 60,000 references, of which over 36,000 (60%) are provided with full text versions (50% of them available on open access).
Actualités
Archives Ouvertes
Libre accès à l'information scientifique et technique