HR management - Company culture - Techniques
Creating Environments That Optimize Creativity and Inspiration. Today's article takes a look at how to help maximize creative thought by carefully structuring the environment around you.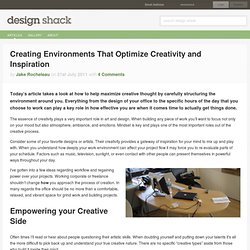 Everything from the design of your office to the specific hours of the day that you choose to work can play a key role in how effective you are when it comes time to actually get things done. The essence of creativity plays a very important role in art and design. How GitHub Works: Creativity is Important. We want to foster a creative environment.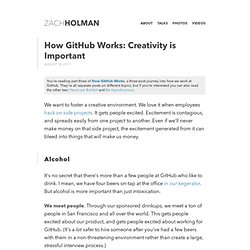 We love it when employees hack on side projects. It gets people excited. How do you create a corporate culture from scratch? | 30 Second MBA. Startup Culture: Values vs. Vibe. I hear some form of the following question a lot from founders that are starting to have early success: "How do we hire a bunch of new people and grow the company quickly without losing the culture we've worked so hard to establish?"
I've been fascinated by different company cultures for as long as I can remember (maintaining culture is also a hot topic at our CEO Lunches each month) and I'm frequently asking entrepreneurs to describe the culture of their companies. Over time I've come to realize that when you break down culture descriptions you'll often find a mix of two components: values and vibe. Although each component can have a significant impact on the overall feel of a company, the way you establish and manage the two should be different. Six Key Principles to Set Your Startup Culture. May 6, 2011 by Marty Zwilling I'm seeing a renewed appreciation of culture and values in business these days.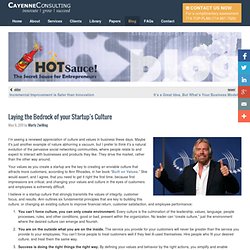 Maybe it's just another example of nature abhorring a vacuum, but I prefer to think it's a natural evolution of the pervasive social networking communities, where people relate to and expect to interact with businesses and products they like. 20 rules of thumb for building a great startup culture. (Editor's note: Scott Weiss is the former co-founder and CEO of IronPort Systems.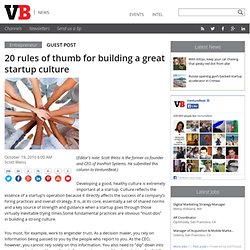 He submitted this column to VentureBeat.) Developing a good, healthy culture is extremely important at a startup. Culture reflects the essence of a startup's operation because it directly affects the success of a company's hiring practices and overall strategy. It is, at its core, essentially a set of shared norms and a key source of strength and guidance when a startup goes through those virtually inevitable trying times.Some fundamental practices are obvious "must-dos" in building a strong culture. You must, for example, work to engender trust. How To Create A Celebratory Startup Corporate Culture.
Marc Bolan, lead singer of T.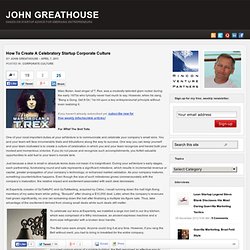 Rex, was a modestly talented glam rocker during the early 1970s who lyrically never had much to say. However, when he sang, "Bang a Gong, Get It On," he hit upon a key entrepreneurial principle without even realizing it. Don't Drink Your Own Kool-Aid. This is a cross post from the Altos Ventures Blog, authored by Anthony Lee.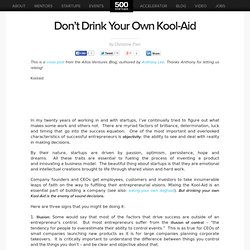 Thanks Anthony for letting us reblog! In my twenty years of working in and with startups, I've continually tried to figure out what makes some work and others not. There are myriad factors of brilliance, determination, luck and timing that go into the success equation.
---