HR management - Company culture - Opportunity
Culture Counts in Every Business, Large or Small
By Roger S. Robinson, Ph.D. Can an intangible like a company's culture make a difference in your business? That is a tough question.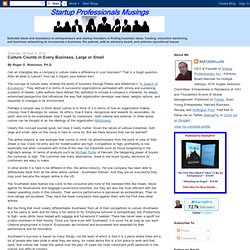 Advice on Building Company Culture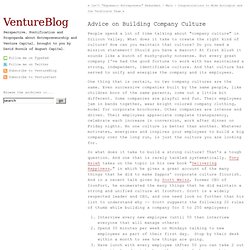 People spend a lot of time talking about "company culture" in Silicon Valley. What does it take to create the right kind of culture? How can you maintain that culture? Do you need a mission statement?
Team & Culture Guide for Early Stage Startups
Cult Creation
You might have read our review of Zappos CEO and founder Tony Hsieh's recent book "Delivering Happiness" a couple of weeks ago. Hsieh's a fanatic about building a strong company culture, where each department understands the other. And his book is a fascinating study in insisting on more from your employees and making them happier at the same time. Now you can learn more about this philosophy from Hsieh himself in this entrepreneur thought leader lecture, given last month at Stanford University. See if you can determine how many brand new hires take the company up on its offer of a $3,000 bonus to quit after just a few weeks on the job. http://ecorner.stanford.edu/swf/player-ec.swf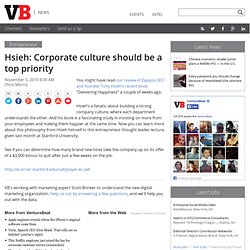 Corporate culture should be a top priority