Collective Consciousness
David J. Chalmers Department of Philosophy University of Arizona Tucson, AZ 85721 chalmers@arizona.edu [Published in the Journal of Consciousness Studies 2(3):200-19, 1995.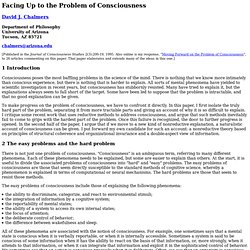 Moving Forward on the Problem of Consciousness
David J. Chalmers Department of Philosophy University of Arizona Tucson, AZ 85721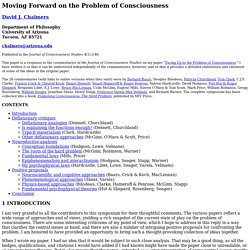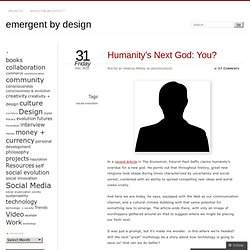 Humanity's Next God: You?
In a recent article in The Economist, futurist Paul Saffo claims humanity's overdue for a new god. He points out that throughout history, great new religions took shape during times characterized by uncertainty and social unrest, combined with an ability to spread compelling new ideas and world views virally. And here we are today, he says, equipped with the Web as our communication channel, and a cultural climate bubbling with that same potential for something new to emerge.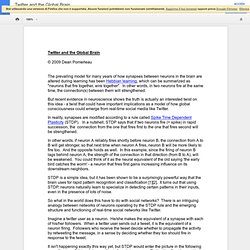 In other words, if neuron A reliably fires shortly before neuron B, the connection from A to B will get stronger, so that next time when neuron A fires, neuron B will be more likely to fire too.
Twitter and the Global Brain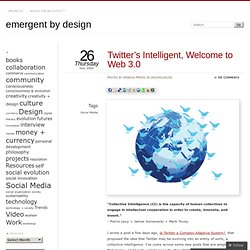 "Collective Intelligence (CI) is the capacity of human collectives to engage in intellectual cooperation in order to create, innovate, and invent." - Pierre Levy + James Surowiecki + Mark Tovey I wrote a post a few days ago, Is Twitter a Complex Adaptive System?, that proposed the idea that Twitter may be evolving into an entity of sorts, a collective intelligence.
Twitter's Intelligent, Welcome to Web 3.0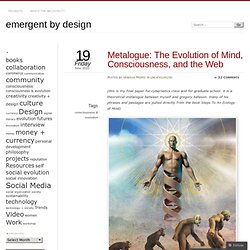 Metalogue: The Evolution of Mind, Consciousness, and the Web
(this is my final paper for cybernetics class and for graduate school. it is a theoretical metalogue between myself and gregory bateson. many of his phrases and passages are pulled directly from the book Steps To An Ecology of Mind) vm: i want to understand the ecology of mind, how it works. I want to understand how technology is accelerating intentional evolution, and what the Web is becoming… a collective intelligence? a global mind?