Materials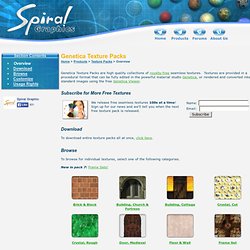 Spiral Graphics - Free Tiling Texture Materials
Genetica Texture Packs Home > Products > Texture Packs > Overview Genetica Texture Packs are high quality collections of royalty-free seamless textures.
Snow Textures | Ben Cloward's Texture Archive
MetaSL Material Library | Smooth Black Leather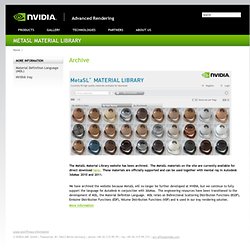 NVIDIA IS WILLING TO LICENSE THE ACCOMPANYING SOFTWARE TO YOU ONLY UPON THE CONDITION THAT YOU ACCEPT ALL OF THE TERMS CONTAINED IN THIS END USER LICENSE AGREEMENT AND ANY SUPPLEMENTARY OR UNIQUE LICENSE TERMS INCLUDED HEREWITH ("AGREEMENT" or EULA). The term "You" or "you" means the company, entity or individual who is acquiring a license to materials under this Agreement; "we", "us" or NVIDIA means NVIDIA GmbH and "both of us" means both you and us.