FEES ET MAGIE
Efteling
Fantasy
Emily's Fairies Blog
The FairyWeb
Elves and pixies and the pixie, pixy and elf world.
Celtic myths, medieval legend, moon fairies and fantasy fairy art & artists
Fairyland
The Garden, Fairies and Flowers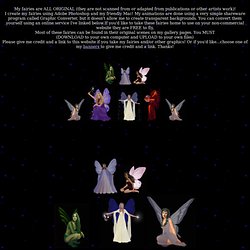 My fairies are ALL ORIGINAL (they are not scanned from or adapted from publications or other artists work)! I create my fairies using Adobe Photoshop and my friendly Mac! My animations are done using a very simple shareware program called Graphic Converter, but it doesn't allow me to create transparent backgrounds.
Fairies from WonderFlight
Faerie Site Map
Lisa Steinke
Welcome to the website of the fantasy artist Josephine Wall