FEES ET MAGIE
Efteling
Fantasy
Emily's Fairies Blog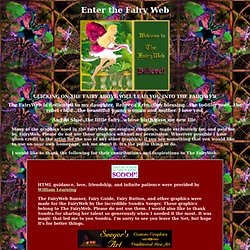 The FairyWeb
HTML guidance, love, friendship, and infinite patience were provided by William Learning The FairyWeb Banner, Fairy Guide, Fairy Button, and other graphics were made for the FairyWeb by the incredible Sondra Seeger. These graphics belong to The FairyWeb. Please do not use them. I would also like to thank Sondra for sharing her talent so generously when I needed it the most.
Elves and pixies and the pixie, pixy and elf world.
Myrea Pettit was born in Northampton, UK in 1970 "All my creative artwork comes from being a peace loving, calm and practising yogi person, believing passionately of total peace and harmony. Each of my pictures is balanced down to how I feel each day, what food I eat and how much exercise I have taken. Was I blessed as the only one who saw them? Maybe I was the only one who believed in them!"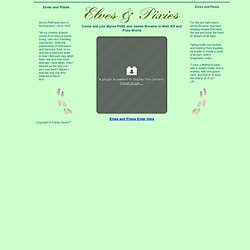 Celtic myths, medieval legend, moon fairies and fantasy fairy art & artists
Fairyland
The Garden, Fairies and Flowers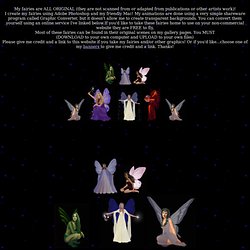 My fairies are ALL ORIGINAL (they are not scanned from or adapted from publications or other artists work)! I create my fairies using Adobe Photoshop and my friendly Mac! My animations are done using a very simple shareware program called Graphic Converter, but it doesn't allow me to create transparent backgrounds.
Fairies from WonderFlight
Faerie Site Map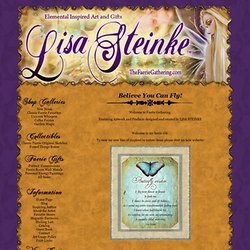 Lisa Steinke
Welcome to Faerie Gathering. Featuring Artwork and Products designed and created by LISA STEINKE Welcome to my faerie site. To view my new line of inspired by nature items please visit my new website: If you have never journeyed here before, please feel free to look around and enjoy my inspired faerie work.
Welcome to the website of the fantasy artist Josephine Wall