Exemples / Inspiration
SlideFest. Best use ofGraphics Neural Pathways jtw78 The Best Graphics category awards the best use of graphics in a presentation.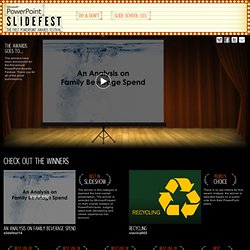 Graphics include pictures, illustrations, customized type or other static art. PowerPoint pros generally agree that simple and bold graphics are more compelling than small or cluttered ones. Best use ofANIMATION PowerPoint in Education sterlingteaches The Best Animation category awards the best use of animation and effects in a presentation. Garr Reynolds - Sample slides. Note & Point. Duarte's Five Rules presentation - Templates. SOAP - State of the Art Presentations Presentations Channel. Work. Empowered Presentations, Presentation Design Firm - Honolulu, HI Presentations Channel. Before & After. @JESSEDEE Presentations Channel. Apollo Ideas | Sample Slides. Garr Presentations. Sacha Chua Presentations Channel.
---