CAD
Free 2D & 3D CAD files, models and drawings of mechanical, electrical & mechatronics part catalogs.
PTC
Home of LibreCAD, 2D-CAD. A9CAD. CNET TechTracker will now automatically install software without requiring further action by you.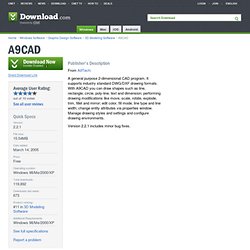 (Note: This feature automatically accepts associated EULAs and third party applications on your behalf.) You have selected the following software to Smart Install: CNET TechTracker will attempt to install this software without interrupting you again. FreeCAD | Free Graphics software downloads.
---