Netzwerk Wlan
How to Setting IP address in Backtrack 4 | Complete note | Tips and Tricks. Linux Back Track 4 already released, as a beginner in Back Track i want to set my ip address for ethernet card.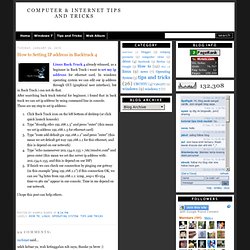 In windows operating system we can edit our ip address through GUI (graphical user interface), but in Back Track i can not do that. After searching back track tutorial for beginner, i found that in back track we can set ip address by using command line in console. Tutorial. English Aircrack-ng There are also informal "tutorials" in the Forum.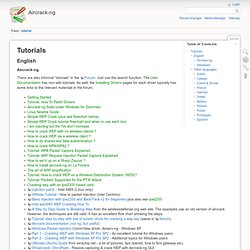 Just use the search function. The User Documentation has non-wiki tutorials. As well, the Installing Drivers pages for each driver typically has some links to the relevant materials in the forum. Deauthentication. Description This attack sends disassocate packets to one or more clients which are currently associated with a particular access point.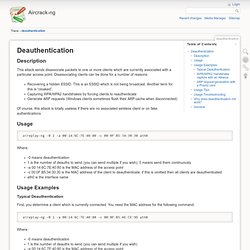 Disassociating clients can be done for a number of reasons: Fake_authentication. Description The fake authentication attack allows you to perform the two types of WEP authentication (Open System and Shared Key) plus associate with the access point (AP).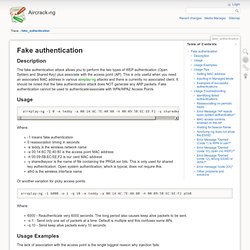 This is only useful when you need an associated MAC address in various aireplay-ng attacks and there is currently no associated client. It should be noted that the fake authentication attack does NOT generate any ARP packets. Fake authentication cannot be used to authenticate/associate with WPA/WPA2 Access Points. Usage. Compatibility_drivers. Microsoft Windows and all variants are NOT officially supported at this point in time.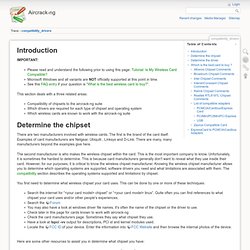 This section deals with a three related areas: Compatibility of chipsets to the aircrack-ng suiteWhich drivers are required for each type of chipset and operating systemWhich wireless cards are known to work with the aircrack-ng suite. Main. Aircrack-ng is an 802.11 WEP and WPA-PSK keys cracking program that can recover keys once enough data packets have been captured.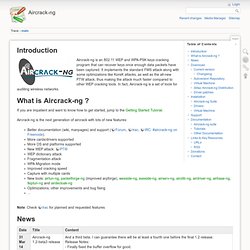 It implements the standard FMS attack along with some optimizations like KoreK attacks, as well as the all-new PTW attack, thus making the attack much faster compared to other WEP cracking tools. In fact, Aircrack-ng is a set of tools for auditing wireless networks. If you are impatient and want to know how to get started, jump to the Getting Started Tutorial. Aircrack-ng is the next generation of aircrack with lots of new features: More cards/drivers supported More OS and platforms supported WEP dictionary attack Fragmentation attack WPA Migration mode Improved cracking speed Capture with multiple cards Optimizations, other improvements and bug fixing … Crack WPA verschlüsseltes Wlan mit BackTrack4 / Aircrack - einfach schnell Tutorial Deutsch. Crack WEP verschlüsseltes Wlan mit BackTrack4 / Aircrack - einfach schnell Tutorial Deutsch.
Crack WPA2 encrypted Wlan with BackTrack4 / Aircrack [ fast and easy Tutorial ] BackTrack 4 Beta! The Hackers Toolbox! Hello there, Finally BackTrack 4 has been officially released!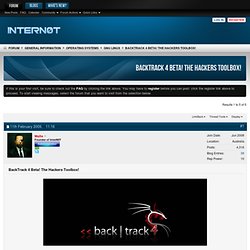 And i must say that a lot has changed since BackTrack 3. In fact, the new version is based on a whole new distrobution, Debian / Ubuntu! As usual they have made an ISO and a VMware image, in this case the ISO file is 850mb which is too large for one cd, so get a DVD! The VMware image is around 1GB and it runs fine within VMware player and the Workstation. Airmon-ng. Description This script can be used to enable monitor mode on wireless interfaces.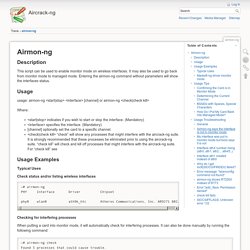 It may also be used to go back from monitor mode to managed mode. Entering the airmon-ng command without parameters will show the interfaces status. Usage usage: airmon-ng <start|stop><interface> [channel] or airmon-ng <check|check kill> Cracking WEP Using Backtrack: A Beginner's Guide. This tutorial is intended for user's with little or no experience with linux or wifi.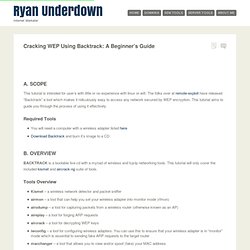 The folks over at remote-exploit have released "Backtrack" a tool which makes it ridiculously easy to access any network secured by WEP encryption. This tutorial aims to guide you through the process of using it effectively. Required Tools. Network__4-List_of_default_Router_Admin_Passwords_and_IP_addresses.pdf (application/pdf-Objekt)
---