Webdesign
50+ High-Quality Sand Texture Collection. Textures made of things created by nature, including sand textures, are popular and useful resources for graphic designers.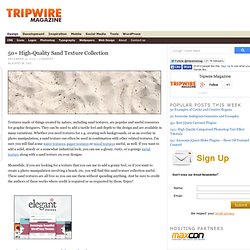 They can be used to add a tactile feel and depth to the design and are available in many variations. Whether you need textures for e.g. creating web backgrounds, or as an overlay in photo manipulation, a sand texture can often be used in combination with other related textures. 12 Cool Word Cloud Generators. Word cloud generators are popular online tools.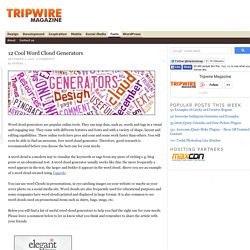 They can map data, such as, words and tags in a visual and engaging way. They come with different features and fonts and with a variety of shape, layout and editing capabilities. These online tools have pros and cons and some work faster than others. You will even be able to find an awesome, free word cloud generator.
13 Awesome Photoshop 3D Text Tutorials. We all are very well aware with the role of Typography in any design and most of us don't even think of an artwork without any text on it.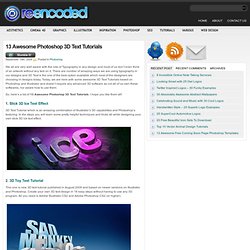 There are number of amazing ways we are using typography in our designs and 3D Text is the one of the best option available which most of the designers are choosing in designs today. Today, we are here with some awesome 3D Text Tutorials based on Photoshop and Illustrator and doesn't require any advanced 3D software as not all of us own these softwares, nor aware how to use them. 40+ Inspirational Non-Profit Website Designs. 16 Fresh Adobe AIR Applications For Designers & Developers. With the ease of development & multi-platform support, Adobe AIR is a getting-popular choice for creating desktop applications.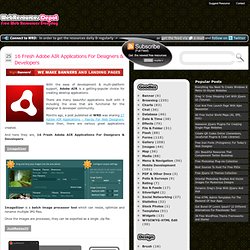 There are many beautiful applications built with it including the ones that are functional for the designer & developer community. Months ago, a post published at WRD was sharing 27 Adobe AIR Applications – Handy For Web Designers. Since then, there are various great applications created. And here they are, 16 Fresh Adobe AIR Applications For Designers & Developers: ImageSizer.
20+ ways to create javascript modal windows and dialog boxes | Design Label. Liked that login modal window on Digg ?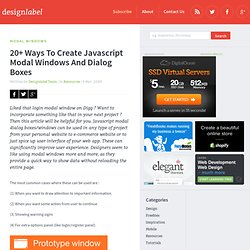 Want to incorporate something like that in your next project ? Then this article will be helpful for you. Javascript modal dialog boxes/windows can be used in any type of project from your personal website to e-commerce website or to just spice up user interface of your web app. These can significantly improve user experience. Designers seem to like using modal windows more and more, as they provide a quick way to show data without reloading the entire page. « Ruby on Rails : Filtres, Flashes, Partielles, Squelettes ... [Dandelion Mood] » Aujourd'hui, nous allons reprendre le cours de l'article précédent, qui posait les bases du fonctionnement de Ruby on Rails et approfondir un peu l'aspect technique des choses en ce qui concerne les Vues & Contrôleurs.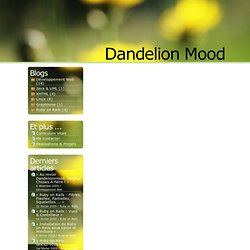 Gestion de flux avec les Filtres Ruby on Rails intègre un mécanisme puissant qui lui permet d'exécuter certaines actions de votre contrôleur avant ou après traitement de la requête, ce grâce aux méthodes de classe before_filter et after_filter qui sont disponibles pour tout Contrôleur. Une des nombreuses utilisations de ce genre de mécanisme est, par exemple, un système de statistique qui vient se greffer très simplement à votre application. Pour cela, nous plaçons simplement une méthode privée dans notre Contrôleur Application (dans le fichier app/controllers/application.rb).
« Ruby on Rails : Vues & Contrôleur [Dandelion Mood] » Concentrons nos efforts d'aujourd'hui sur la bonne compréhension des mécanismes qui sont à la base du fonctionnement de Ruby On Rails, framework que je me suis proposé de présenter en plusieurs articles dans celui-ci, qui annonce le plan des festivités à venir.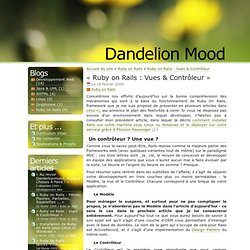 Si vous ne disposez pas encore d'un environnement dans lequel développer, n'hésitez pas à consulter mon précédent article, dans lequel je décris comment installer Rails sur votre machine sous Linux ou Windows et le déployer sur votre serveur grâce à Phusion Passenger ;) ! Un contrôleur ? Kits graphiques css : zwatla.com. [ws] Color Scheme Designer.
CSS Examples. 35 Most Useful FREE Vectors to Kick Start 2009. Let's kick start the New Year with a great compilation of the best free vectors online.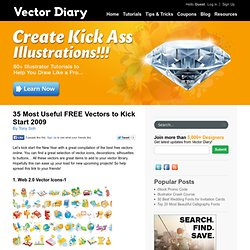 You can find a great selection of vector icons, decorations, silhouettes to buttons… All these vectors are great items to add to your vector library. Hopefully this can ease up your load for new upcoming projects! So help spread this link to your friends! These vectors are from the 16th century and make excellent ornaments. Free Logo Builder - Make A Free Logo Online - LogoBlog.org. Les microformateurs. Login Panel, connexion du plus bel effet| Webmaster - Ressources et outils gratuits pour votre site internet - Free Tools| Free Tools, Le meilleur des outils gratuits pour webmaster.
Tinytags - make a little text tag graphic. How to Mimic the iGoogle Interface - NETTUTS. Permet de copier coller la plupart des caractères spéciaux. WpRecipes.com : Daily recipes to cook with WordPress. Tiled backgrounds designer. Index of /code/javascript.
---