Tic
Comparatif : les adaptateurs CPL - Les Numériques
Quel adaptateur CPL choisir ? Vous pouvez, au choix, consulter l'intégralité de nos essais, ou vous contenter d'aller directement à l'essentiel avec notre sélection des meilleurs adaptateurs CPL. L'avantage du CPL réside dans sa simplicité d'utilisation : vous branchez les adaptateurs sur une multiprise ou sur une prise électrique murale, puis vous reliez à l'aide d'un câble réseau classique chaque adaptateur à l'élément qui doit communiquer : ordinateur, box ADSL, boîtier multimédia réseau ou même console de jeux... La communication s'établit immédiatement, sans aucune configuration des boîtiers. Deux groupes d'adaptateurs CPL se partagent le marché, ceux affichant un débit théorique de 200 Mbps et ceux à 500 Mbps, toujours théoriques.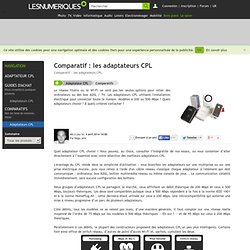 Copia. Ejercicios de escritura. Bartolomé Sintes Marco
Make your data sing !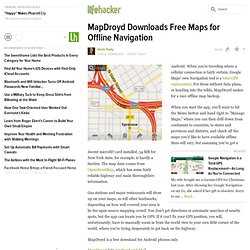 MapDroyd Downloads Free Maps for Offline Navigation - Maps - Lifehacker
SExpand Android: When you're traveling where a cellular connection is fairly certain, Google Maps' own Navigation tool is a total GPS replacement. For those without data plans, or heading into the wilds, MapDroyd makes for a nice offline map backup. When you start the app, you'll want to hit the Menu button and head right to "Manage Maps," where you can then drill down from continents to countries, to states and provinces and districts, and check off the maps you'd like to have available offline.