Politics & Such
My Little Corner of Hell | the unspeakable and the unelectable, joined...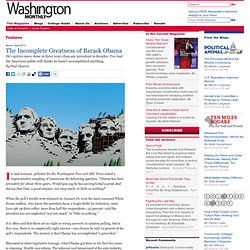 March/ April 2012 The Incomplete Greatness of Barack Obama
The Magazine - The Incomplete Greatness of Barack Obama
Listen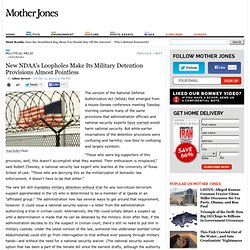 New NDAA's Loopholes Make Its Military Detention Provisions Almost Pointless
The version of the National Defense Authorization Act (NDAA) that emerged from a House-Senate conference meeting Tuesday morning contains many of the same provisions that administration officials and national security experts have warned would harm national security. But while earlier incarnations of the detention provisions were confusing and harmful, now they're confusing and largely symbolic.
The volume of sheer, unadulterated nonsense zipping around the internet about the NDAA boggles the mind. There was a time–only a few months ago–when the NDAA detention provisions were the obscure province of a small group of national security law nerds. Now, however, this bill has rocketed to international notoriety. The added attention to it is a good thing.
NDAA FAQ: A Guide for the Perplexed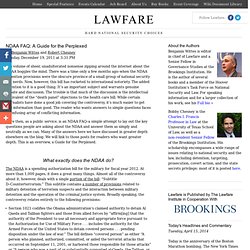 Taking the Initiative in a Struggle Against Excessive Rate Increases
The biggest applause line Senator Diane Feinstein (D-Calif.) got at a gathering of Democratic Party activists last week came when she endorsed a ballot initiative to give the California Insurance Commissioner power to reject excessive health insurance rate increases.
The Definition of Insanity: Deregulating Over and Over and Expecting Different Results
Published: Monday 20 February 2012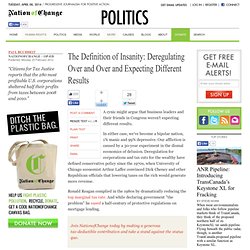 How to Put People Back in Charge
Most Americans know we've got problems with corporate power.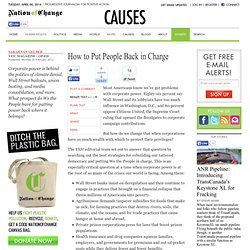 Last month, we noted that Public Citizen filed an official petition with the Federal Reserve to break up Bank of America, using powers granted under the Dodd-Frank financial reform bill.
Petition to Break up Bank of America Pushes Forward
David Koch Admits Big Spending to Help Scott Walker Bust 'Union Power'
Billionaire campaign donor David Koch, heir to a fortune and a political legacy created by one of the driving forces behind the John Birch Society, makes no secret of his enthusiasm for Wisconsin Governor Scott Walker . "What Scott Walker is doing with the public unions in Wisconsin is critically important. He's an impressive guy and he's very courageous," Koch explained in a recent conversation reported by the Palm Beach Post .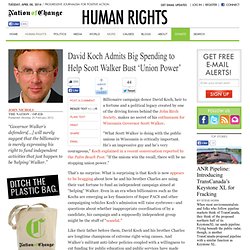 You hear it everywhere. Democrats are disappointed in the president. Independents have soured even more. Republicans have worked themselves up into an apocalyptic fervor. And, yes, this is not exactly unusual. A president in the last year of his first term will always get attacked mercilessly by his partisan opponents, and also, often, by the feistier members of his base.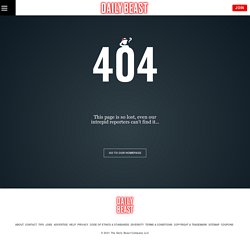 Andrew Sullivan: How Obama's Long Game Will Outsmart His Critics
ReFund California Coalition
Nonviolent Action > 198 Methods of Nonviolent Action 198 Methods of Nonviolent Action These methods were compiled by Dr. Gene Sharp and first published in his 1973 book, The Politics of Nonviolent Action, Vol. 2: The Methods of Nonviolent Action . (Boston: Porter Sargent Publishers, 1973).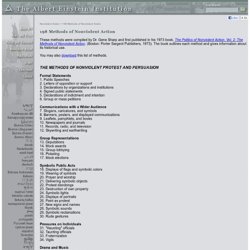 New Study Reveals That Stupidity Can Make You Conservative And Racist
New Study Reveals That Stupidity Can Make You Conservative And Racist