Tools & Tips
Get flash to fully experience Pearltrees
PS: We feature new, hand-picked tutorials every day! Subscribe to our RSS feed and get them delivered! photoshop
Photoshop is what makes virtual world alive. Its not less than a blessing for designers. Internet is full of Photoshop Tutorials and you will find tutorial on each tool. But we also understand that due to scarcity of time, its difficult for you to dive in this deep sea of tutorials to find out the gems. Thus we have collected this massive collection of 350 Photoshop Tutorials to save your time and effort.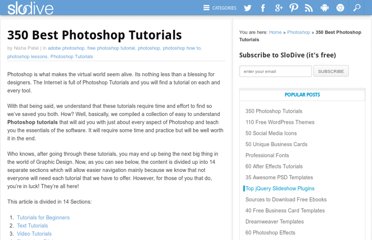 I normally talk about the importance of using a flash when taking shots into the sun to give sufficient light to add features to your subject but there are also times when making your subject featureless apart from their outline against a bright background can be most effective – or when in other words silhouette is a worth exploring. Silhouettes are a wonderful way to convey drama, mystery, emotion and mood to the viewers of your photos and often stand out in an album because of the combination of their simplicity but also the story that they convey. I love them because they don't give the viewer of a clear picture of everything but leave part of the image up to their imagination to wonder about.
by Guest Contributor Anna Gay Photographers are often striving for a "vintage" look in their photos, and even though there are endless ways of achieving a vintage look, there are a couple of characteristics to keep in mind. First of all, the color tones in a vintage photo often lean towards either a blue or a red hue, or a cross-processed look. Vintage photos also have an element of noise or grain that can be achieved through textures, and also a certain amount of vignetting around the edges of the photo. In this tutorial, we will look at adjusting color tones and adding vignettes.
Through the use of brushes and various combinations of often pastel and neutral colors, creating that digital watercolor style in Photoshop can be a fun and rewarding experience. If you're interested in creating this technique, try following along with one of the many tutorials listed below. To help you gather resources, I've also included 15 of some of the best Photoshop watercolor brush sets available, located just below the tutorial roundup. Enjoy! Photoshop Watercolor Tutorials
This tutorial will help you learn how to speed up skin retouching and polish photos in Photoshop using basic techniques. Original Photo Step 1 Duplicate the background image and rename it to Layer 1 . Step 2
Check back often for new additions! Instructions: 1. Click on preset title or example photo to download. If this doesn't work, right-click title or photo and choose "Save As" 2.
Photoshop actions are great. If you're not familiar with actions, they are simply prerecorded adjustments made to a Photoshop file that can be saved and applied to other projects. The concept is simple, but the process to create some actions can be very complicated. That's why using actions can be a huge time saver.
Photo Manipulations can be a lot of fun and can produce powerful effects. In this post you will find the best 30 Photoshop tutorials that I found. 1. Create a Surreal Photo Manipulation 2.
Want to learn how everything works in Photoshop? We'll help you make your photos better, draw vector graphics, and design a web site. Learn the Basics of Photoshop in Under 25 Minutes - To get started with Photoshop, you need to know what everything does. Here's a look at practically every tool in Photoshop in less than 25 minutes. Basics of Photoshop: Color Correction, Touch Ups, and Enhancements - Now that you know the tools Photoshop has to offer, we can take a look at using them to correct and alter color, retouch blemishes and other unwanted parts of your photos, and enhance portraits to make the subject look especially good.