Tea Party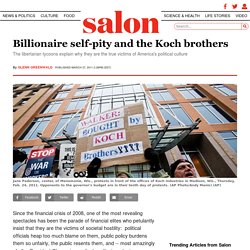 Billionaire self-pity and the Koch brothers - Glenn Greenwald
Since the financial crisis of 2008, one of the most revealing spectacles has been the parade of financial elites who petulantly insist that they are the victims of societal hostility: political officials heap too much blame on them, public policy burdens them so unfairly, the public resents them, and — most amazingly of all — President Obama is a radical egalitarian who is unprecedentedly hostile to business interests. One particularly illustrative example was the whiny little multi-millionaire hedge fund manager (and CNBC contributor), Anthony Scaramucci, who stood up at an October, 201o, town hall meeting and demanded to know : "when are we going to stop whacking at the Wall Street pinata?"
State governments are grappling with massive budget deficits, overburdened social programs, and mountains of deferred spending. But never mind all that. For some conservative lawmakers, it's the perfect time to legislate the promotion of creationism in the classroom. In the first three months of 2011, nine creationism-related bills have been introduced in seven states—that's more than in any year in recent memory: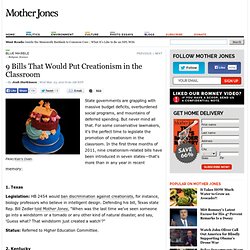 9 Bills That Would Put Creationism in the Classroom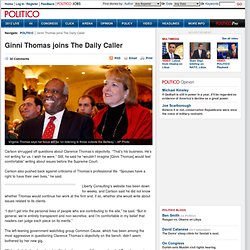 Carlson shrugged off questions about Clarence Thomas's objectivity. "That's his business.
Ginni Thomas joins The Daily Caller - Jennifer Epstein and Kenneth P. Vogel
Walker's Attack on People of Color
Share this While Wisconsin protest coverage has focused on GOP efforts to limit public sector collective bargaining, less attention has been given to the Republican attack on the poor and people of color.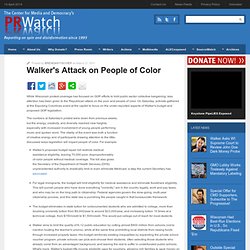 Bill introduced in Alaska would restrict collective bargaining rights for many public workers
By JIM DEMINT When presidents of government-funded broadcasting are making more than the president of the United States, it's time to get the government out of public broadcasting. While executives at the Public Broadcasting Service (PBS) and National Public Radio (NPR) are raking in massive salaries, the organizations are participating in an aggressive lobbying effort to prevent Congress from saving hundreds of millions of dollars each year by cutting their subsidies.
Jim DeMint: Public Broadcasting Should Go Private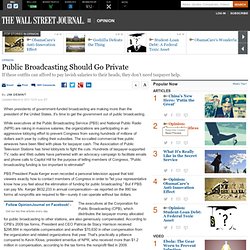 Last year, the New York Times revealed that petrochemical billionaire David Koch was among a small group of multibillionaires quietly promoting a presidential candidacy for former Massachusetts governor Mitt Romney.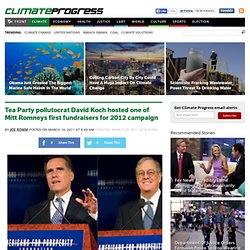 Tea Party pollutocrat David Koch hosted one of Mitt Romney's first fundraisers for 2012 campaign « Climate Progress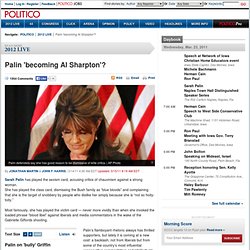 Palin 'becoming Al Sharpton'? - Jonathan Martin and John F. Harris
Sarah Palin has played the sexism card, accusing critics of chauvinism against a strong woman.
Wisconsin Proxies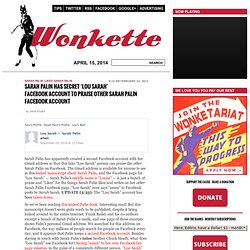 Sarah Palin has apparently created a second Facebook account with her Gmail address so that this fake "Lou Sarah" person can praise the other Sarah Palin on Facebook.
Sarah Palin Has Secret 'Lou Sarah' Facebook Account To Praise Other Sarah Palin Facebook Account
, the justice's wife, said on libertyinc.co , a Web site for her new political consulting business, that she saw herself as an advocate for "liberty-loving citizens" who favored limited government, free enterprise and other core conservative issues. She promised to use her "experience and connections" to help clients raise money and increase their political impact.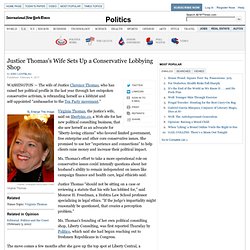 Justice Thomas's Wife Sets Up a Conservative Lobbying Shop
Two years ago, Tea Party Patriots got its start as a scrappy, ground-up conservative organization. Its rowdy activists demanded more transparency and less business-as-usual in the nation's capital, and they worked hard to elect candidates who they believed wouldn't succumb to the ways of Washington. But it didn't take long for the grassroots tea party organization to embrace the DC establishment—and some of its more questionable practices. Lately, Tea Party Patriots (TPP) has started to resemble the Beltway lobbying operations its members have denounced. The group's leaders have cozied up to political insiders implicated in the Jack Abramoff lobbying scandal and have paid themselves significant salaries. TPP accepted the use of a private jet and a large donation of anonymous cash right before a key election, and its top officials have refused to discuss how the money was spent.
Tea Party Patriots Investigated: "They Use You and Abuse You"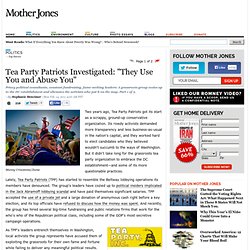 Jacobs: Egyptians Need to Learn From America's Mistake of "Blindly Voting" For Change
Cindy Jacobs and Generals International have released a lengthy prayer guide for dealing with the crisis in Egypt, stating that "it is a HUGE error to think that these protests are about the Egyptians demanding democracy" and warning that Egyptians need to take a lesson from America about the "danger of blindly voting for un-delineated change, simply because of discontent with the present leadership":
Paul Ryan's State Of The Union Rebuttal: The Best They Got?
Paul Ryan delivered a heck of a rebuttal tonight, especially if you wanted to make one of those "Sarah Palin breathing" videos.
Health-care law: Arizona tries new approach to get by federal Medicaid rules
Republican efforts to repeal or limit the reach of the new health-care law took a new direction last week when Arizona lawmakers approved a novel and controversial attempt to cut Medicaid for 280,000 of the state's poor. The bill, requested and signed by Gov. Jan Brewer (R), empowers her to make a formal request, most likely this week, for a federal waiver to avoid complying with provisions of the law that prohibit states from tightening their eligibility requirements for Medicaid. Twenty-nine Republican governors, including Brewer, have signed a letter calling on President Obama and congressional leaders to remove the provision from the law. But Arizona is the first state to, in effect, play chicken with the Obama administration by directly requesting a reprieve and daring Health and Human Services Secretary Kathleen Sebelius to refuse. The move is widely regarded as a long shot.
January 19, 2011 | Like this article? Join our email list: Stay up to date with the latest headlines via email.
Sorry Tea Partiers -- The GOP Only Cares About Their Corporate Paymasters and Wealthy Elites Like the Kochs | Tea Party and the Right
Stephen Colbert Ridicules The Dismantling Of Wake County's Successful Schools
Last night, Stephen Colbert deployed "The Word" to bring his show's unique and wonderful brand of language-brutality upon the recent decision of the Wake County, N.C. school board to dismantle a successful school system that had achieved schools of high economic diversity and astounding rates of parent satisfaction.