Politcal th30ries
Anarchy In Your Head » Archive » The Slave Test. Are you a slave?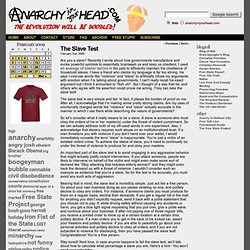 Recently I wrote about how governments manufacture and evoke powerful symbols to essentially brainwash us and keep us obedient. I used an analogy of similar tactics in the past to efficiently maintain the obedience of household slaves. Noam Chomsky: WikiLeaks Cables Reveal "Profound Hatred for Democracy on the Part of Our Political Leadership". This is a rush transcript.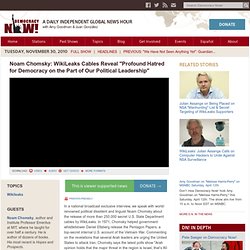 Copy may not be in its final form. AMY GOODMAN: For reaction to the WikiLeaks documents, we're joined now by world-renowned political dissident and linguist Noam Chomsky, Professor Emeritus at Massachusetts Institute of Technology, author of over a hundred books, including his latest, Hopes and Prospects. Well, 40 years ago, Noam and the late historian Howard Zinn helped government whistleblower Daniel Ellsberg edit and release the Pentagon Papers, the top-secret internal U.S. history of the Vietnam War. Noam Chomsky joins us now from Boston. A People's History of American Empire by Howard Zinn. Democracy and militarism.
Howard Zinn on taxes and class war. Howard Zinn: "On Human Nature and Aggression." Bertrand Russell - to our descendants. Property Is Robbery. Chomsky explains anarchism (5 of 5) Chomsky explains anarchism (4 of 5) Chomsky explains anarchism (3 of 5) Chomsky explains anarchism (2 of 5) Chomsky explains anarchism (1 of 5) Howard Zinn on Anarchism and Marxism.
---