African Issues
Morocco: Restore Accreditation to Al Jazeera. (New York) - Morocco should stop revoking the accreditation of journalists for foreign media whose reporting displeases them, Human Rights Watch said today.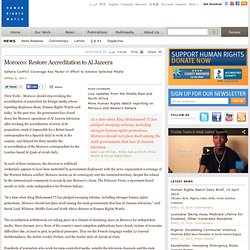 In the past year, the government has closed down the Morocco operations of Al Jazeera television after revoking the accreditation of seven of its journalists, made it impossible for a Rabat-based correspondent for a Spanish daily to work in the country, and delayed for three months the re-accreditation of the Morocco correspondent for the London-based Al-Quds al-Arabi daily. In each of these instances, the decision to withhold credentials appears to have been motivated by government displeasure with the news organization's coverage of the Western Sahara conflict. Morocco insists on its sovereignty over the contested territory, despite the refusal by the international community to accept de jure Morocco's claim. The Polisario Front, a movement based mostly in exile, seeks independence for Western Sahara. Africa still Remembers Dictator Yoweri Museveni's War Crimes : Uganda.
Tyrant Yoweri Museveni might have friends in Western Capitals protecting him from all the crimes he has committed, such as; Use of child soldiers, Conscripting or enlisting children under the age of 15 years into armed forces or groups, or using them to participate actively in hostilities (refer to the so called "Kadogos" of Luwero and in DR Congo);but one day...one day, will be pay back time!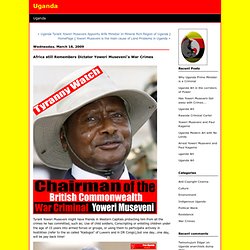 Here are some of the charges; Acts of terrorism - in Luwero, Gulu, Southern Sudan, Rwanda, and Congo. Terrorising the civilian population and collective punishments You can add setting off bombs around Kampala and Jinja some years back. Murder - Unlawful killings All the killings of prominent people during the time of Amin, Obote II, Lule, Binaise till now. This has been the work of Museveni and FRONASA. Aliko Dangote. Killer of DRC technician said to wear police uniform. Hardy Kazadi Ilunga was just 21.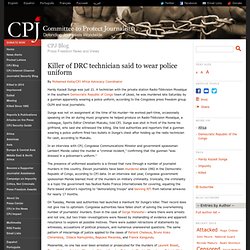 A technician with the private station Radio-Télévision Mosaïque in the southern Democratic Republic of Congo town of Likasi, he was murdered late Saturday by a gunman apparently wearing a police uniform, according to the Congolese press freedom group OLPA and local journalists. Ilunga was not on assignment at the time of his murder--he worked part-time, occasionally speaking on the air during music programs he helped produce on Radio-Télévision Mosaïque, a colleague, Sports Editor Christian Mukubu, told CPJ.
A Warlord's Last Chance - By Johnny Dwyer. Charles Taylor has always been an opportunist.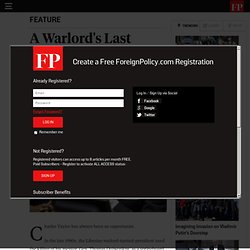 In the late 1980s, the Liberian warlord-turned-president used the killing of his mentor, Gen. Thomas Quiwonkpa, as a springboard to launch his own revolution. In 1997, he deployed the same rebel army that had torn Liberia to pieces during the civil war as a political machine to mobilize votes for a popular election. And several years into his presidency, Taylor leveraged the bloodletting in Sierra Leone to turn the world's attention to the region and find an audience with the United States.
Partying Amid Poverty Stirs South Africa Debate. [Egypt] Populism. Gbagbo seizes central bank branches - Africa. Laurent Gbagbo, Cote d'Ivoire's incumbent leader, has ordered the seizure of Ivorian branches of the the Central Bank of West African States (BCEAO), in an attempt to retain control of state finances and his grip on power.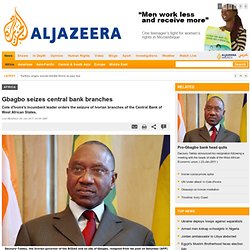 Gbagbo's finance minister instructed staff on Wednesday to answer to local officials and not the bank's management, which is based in Dakar in Senegal. In response, Alassane Ouattara, the internationally-recognised winner of November's disputed presidential election, ordered the closure of the Ivorian branches of the BCEAO and vowed to prosecute anyone following Gbagbo's orders.
"Such a measure is intended to securitise the financial assets of the Ivorian state and of individuals," Ouattara's parallel government, which is operating from a UN-guarded hotel in Abidjan, the financial capital, said in a statement. On Saturday, Philippe-Henry Dacoury-Tabley, the Ivorian governor of the BCEAO and an ally of Gbagbo, resigned from his post. Africa. Blackwater Founder Erik Prince Is Said To Back African Mercenaries. NAIROBI, Kenya — Erik Prince, whose former company Blackwater Worldwide became synonymous with the use of private U.S. security forces in Iraq and Afghanistan, has quietly taken on a new role in helping to train troops in lawless Somalia.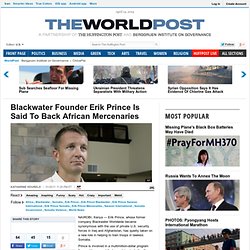 Prince is involved in a multimillion-dollar program financed by several Arab countries, including the United Arab Emirates, to mobilize some 2,000 Somali recruits to fight pirates who are terrorizing the African coast, according to a person familiar with the project and an intelligence report seen by The Associated Press. Prince's name has surfaced in the Somalia conflict amid the debate over how private security forces should be used in some of the world's most dangerous spots.
---