On the fly
TrueCrypt - Free Open-Source On-The-Fly Disk Encryption Software for Windows 7/Vista/XP, Mac OS X and Linux. How To Make Encrypted Folders Others Can't View with Truecrypt 7. Truecrypt is a practical implementation of paranoia for your PC, and Version 7 has an even bigger stash of goodies to ease your worries, along with better performance.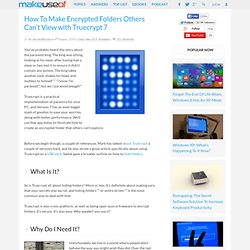 We'll use that app today to illustrate how to create an encrypted folder that others can't explore. Before we begin though, a couple of references. Forums :: View Forum - General. Forums :: Accidently restored incorrect header backup! Thanks Dan!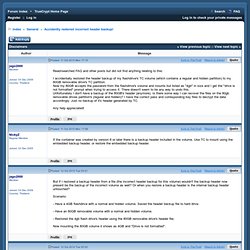 This pretty much answers my question - I'm screwed. The only backup of the (correct) header for this drive is on a disk that was recently nuked with DBAN before selling it as part of complete machine, so recovery is not an option. Forums :: GMail Drive Shell Extension and TC? Has anyone tried the GMail Drive Shell Extension and TC together to see if they work?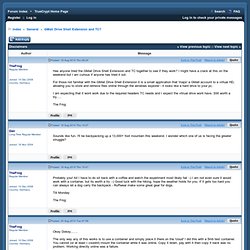 I might have a crack at this on the weekend but I am curious if anyone has tried it out. For those not familiar with the GMail Drive Shell Extension it is a small application that 'maps' a GMail account to a virtual HD, allowing you to store and retrieve files online through the windows explorer - it looks like a hard drive to your pc. I am expecting that it wont work due to the required headers TC needs and I expect the vitrual drive wont have. Still worth a try..... Forums :: Cascading Aes-Twofish-Serphent question.
Let's see.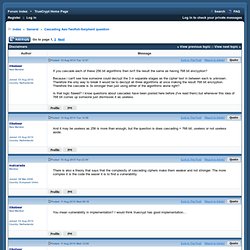 If you read the docs you will find that each cipher in the cascade uses its own key, independent of the other keys. For three cascades of 256-bit keys that makes a total of 768 bits of key material. The effective key length might be somewhat less according to things I have read, but it's not the case that the three cascades only add 2 bits of key length. As far as your "3 lots of 4-bit only give you 5-bit", I think you were trying to say that the key lengths don't add - but they do.
Forums :: Password strength will 43 characters or more give 256 bits entropy? I keep reading that 40 or 43 characters will produce 256 bits entropy.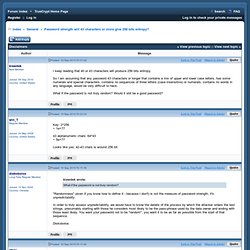 So I am assuming that any password 43 characters or longer that contains a mix of upper and lower case letters, has some numerals and special characters, contains no sequences of three letters (case insensitive) or numerals, contains no words in any language, would be very difficult to hack. What if the password is not truly random? Would it still be a good password? Forums :: Run a command after mounting encrypted volume (windows) Hi All, Question: Is it possible for TrueCrypt to issue a command on the successful mounting of an encrypted volume (windows)?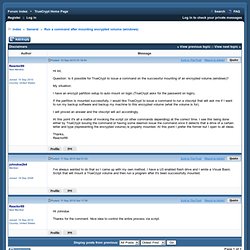 My situation: I have an encrypt partition setup to auto mount on login (TrueCrypt asks for the password on login). If the partition is mounted successfully, I would like TrueCrypt to issue a command to run a vbscript that will ask me if I want to run my backup software and backup my machine to this encrypted volume (what the volume is for). I will proved an answer and the vbscript will act accordingly.
Download index
---