Sewing
Teach Yourself to Sew - Sewing for Beginners Video Series: Tips, Techniques, Projects and More | Threadsmagazine.com
A Message for the Beginner Seamstress and Fashion Designer Sewing your own clothes can be anything from pajamas to your own winter coat. If you are just starting out, I would suggest that you start with a simple pair of shorts or pants that have an elastic waistband. Have fun sketching your clothing line too. Remember to include accessories: hats, purses, belts, scarves, etc... As you begin to sew more clothes and you become more experienced, than you can go onto more difficult projects.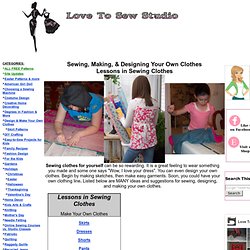 How to Sew Your own Clothes,  How to Make your Own Clothing, Lessons in Sewing Clothes
Vintage Fashion Library - Vintage Fashion Library
Pattern Runway
A Few Threads Loose
A couple of years ago, I found an amazing vintage Mens' robe pattern on Etsy and fell in love. I snapped it up, ordered some amazing rayon fabric and some ultra-soft micro fleece to line it with. When the pattern arrived I was so excited... and then somehow I never made it.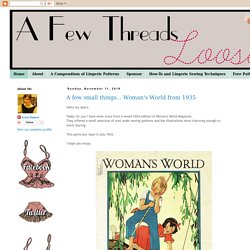 Make This Look
BurdaStyle