Mfa
MFA in Writing - Pacific University. An exceptional low-residency writing program in the Pacific Northwest Pacific's Master of Fine Arts in Writing program celebrates writing as an art that has the potential to make a difference in the world.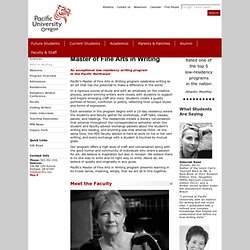 In a rigorous course of study and with an emphasis on the creative process, award-winning writers work closely with students to support and inspire emerging craft and voice. Students create a quality portfolio of fiction, nonfiction or poetry, reflecting their unique styles and forms of expression. Each semester in the program begins with a 10-day residency where the students and faculty gather for workshops, craft talks, classes, panels, and readings. Residencies - MFA in Creative Writing at Pacific University. Every semester in the MFA program begins with a 10-day residency at the Oregon coast (winter) or at Pacific University in Forest Grove, Oregon (summer).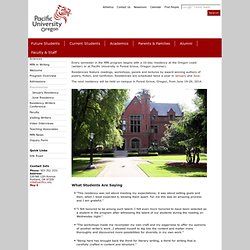 Residencies feature readings, workshops, panels and lectures by award-winning authors of poetry, fiction, and nonfiction. Residencies are scheduled twice a year in January and June. The next residency will be held on campus in Forest Grove, Oregon, from June 19-29, 2014. What Students Are Saying "This residency was not about meeting my expectations; it was about setting goals and then, when I least expected it, blowing them apart. M.F.A. in Creative Writing Admissions | Antioch University Los Angeles. AULA's Master of Fine Arts in Creative Writing was named one of the top five low-residency MFA programs in the country by The Atlantic magazine.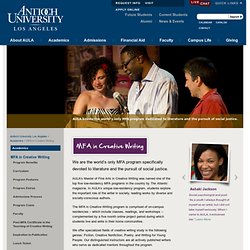 In AULA's unique low-residency program, students explore the important role of the writer in society, reading works by diverse and socially-conscious authors. The MFA in Creative Writing program is comprised of on-campus residencies – which include classes, readings, and workshops – complemented by a five month online project period during which students live and write in their home communities. Department of English at Cornell University | Graduate › The M.F.A. Program. The Programs Each year the department enrolls only eight M.F.A. students, four in each concentration.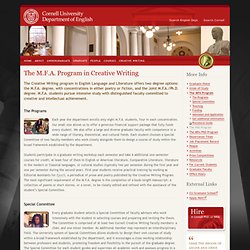 Our small size allows us to offer a generous financial support package that fully funds every student. Arts, Humanities & Social Sciences. Creative Writing Programs - MFA, PhD, MA - NewPages.com. This directory of university creative writing programs includes MFA creative writing programs, and MA and PhD creative writing programs.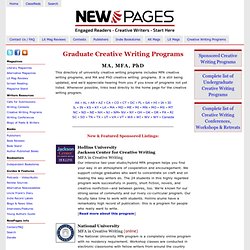 It is still being updated, and we'd appreciate hearing from you if you know of programs not yet listed. Whenever possible, links lead directly to the home page for the creative writing program. AK - AL - AR - AZ - CA - CO - CT - DC - FL - GA - HI - IA - IDIL - IN - KS - KY - LA - MA - MD - ME - MI - MN - MO - MS - MTNC - ND - NE - NH - NJ - NM- NV - NY - OH - OK - OR - PA - RISC - SD - TN - TX - UT - VA - VT - WA - WI - WV - WY - Canada New & Featured Sponsored Listings: Warren Wilson MFA Faculty Bibliography. Whidbey Island Writers Association - MFA Program.
The Whidbey Writers Workshop Master of Fine Arts in Creative Writing (MFA) Program is the first in the country - and perhaps in the world - to be offered not by a college or university but by an organization of writers.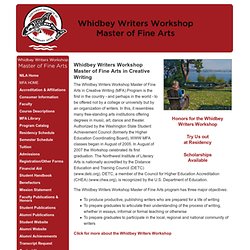 In this, it resembles many free-standing arts institutions offering degrees in music, art, dance and theater. Authorized by the Washington State Student Achievement Council (formerly the Higher Education Coordinating Board), WWW MFA classes began in August of 2005. In August of 2007 the Workshop celebrated its first graduation. The Northwest Institute of Literary Arts is nationally accredited by the Distance Education and Training Council (DETC) (www.detc.org). DETC, a member of the Council for Higher Education Accreditation (CHEA) (www.chea.org), is recognized by the U.S. PhD with Creative Dissertation | Department of English. The University of Calgary offers a Ph.D. in English with a Creative Writing option.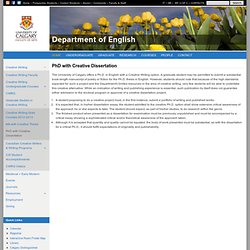 A graduate student may be permitted to submit a substantial book-length manuscript of poetry or fiction for the Ph.D. thesis in English. However, students should note that because of the high standards expected for such a project and the Department's limited resources in the area of creative writing, very few students will be able to undertake this creative alternative. Stonecoast MFA in Creative Writing. Stonecoast MFA in Creative Writing. Gettysburg Review - Staff. Peter Stitt In addition to serving as editor of the Gettysburg Review since its founding in 1988, Peter Stitt is a full professor in the Department of English at Gettysburg College.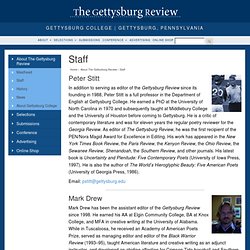 He earned a PhD at the University of North Carolina in 1970 and subsequently taught at Middlebury College and the University of Houston before coming to Gettysburg. He is a critic of contemporary literature and was for eleven years the regular poetry reviewer for the Georgia Review. As editor of The Gettysburg Review, he was the first recipient of the PEN/Nora Magid Award for Excellence in Editing.
His work has appeared in the New York Times Book Review, the Paris Review, the Kenyon Review, the Ohio Review, the Sewanee Review, Shenandoah, the Southern Review, and other journals. The Best of the Best - Magazine. A guide to graduate programs in creative writing.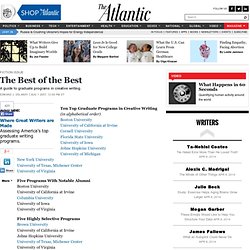 Ten Top Graduate Programs in Creative Writing (in alphabetical order) Boston University University of California at Irvine Cornell University Florida State University University of Iowa Johns Hopkins University University of Michigan New York University University of Texas, Michener Center University of Virginia Five Programs With Notable Alumni Boston University University of California at Irvine Columbia University University of Iowa University of Virginia Five Highly Selective Programs Brown University University of California at Irvine Johns Hopkins University University of Texas, Michener Center University of Virginia.
Mozilla Firefox.
---