Indigobunting
meg
Mental health. AA. SfT. NET. Explore:clients. Me as consultant. Early humans/new life. HR. Projects. The wood for this project and for all others is Basswood.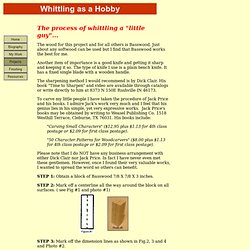 Just about any softwood can be used but I find that Basswood works the best for me. Another item of importance is a good knife and getting it sharp and keeping it so.
Brain, psychology
Business solutions online. Books/bookstores. Horses. Tv/moviesonline. Mozilla Firefox. Psychotherapy Networker. Seo/sem. Designers. NEW LIFE. Music. Poetry. Blogs. Web. Research. Help. Schools. Nature. Pearltrees videos. Performance.
---