Indigobunting
meg
The wood for this project and for all others is Basswood. Just about any softwood can be used but I find that Basswood works the best for me. Another item of importance is a good knife and getting it sharp and keeping it so.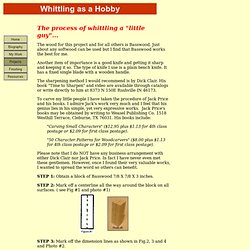 Projects
Business solutions online
Mozilla Firefox
Our award-winning, bimonthly magazine offers in-depth features and clinically useful coverage of the issues relevant to your day-to-day work. Whether it's the latest clinical advance, groundbreaking research, or ideas about helping your practice thrive, you'll find that the Networker keeps you on the cutting edge. Read More... Networker Webcasts bring you provocative conversations with psychotherapy's leaders that explore ways to enhance your therapeutic effectiveness. These interviews cover the full range of clinical practice: from working with couples and families to treating anxiety, depression, and trauma.
Psychotherapy Networker