Diffusion
Streaming March to Athens #1
Stories from Walkers - Tumblr Diary
March to Athens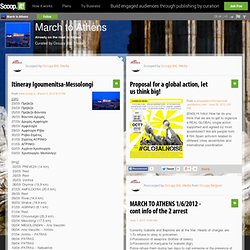 (Es) Hola. Soy el hermano de Isabel. Mi hermana me ha llamado y me ha contado que los tienen detenidos a ella y a Baptiste, un chico francés. Estaban en la calle grabando a unos policías, y estos les pidieron que borraran lo grabado.
Twitter @marchtoathens
PROGRAMMA DELL'AGORA: Dettagli in fase di elaborazione 7 Gennaio: Accoglienza e Assemblea interna di conoscenza 8 Gennaio: Pomeriggio: Assemblea con la cittadinanza all'Arco di Costantino 9 Gennaio: Ponte Galeria - azione al Cie e assemblea tematica sull'immigrazione
International NONviolent March Nice-Rome-Athens (Italy)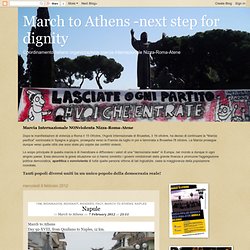 8-9 junio Llamamiento global solidaridad #WeareGezi #OccupyGezi, registra el evento de tu zona: http://geziglobal.tk/es.html Evento global : https://www.facebook.com/events/541521125908976/ [Descripción] THIS IS A GLOBAL EVENT - REGIST...ER YOUR LOCAL EVENT AT http://geziglobal.tk/ AVAILABLE BELOW IN 1) English 2) Turkçe 3) Kurdî 4) Español 5) Ελληνικά 6) Français 7) Português Italiano 9) Nederlands 10) русский 11) Deutsch 12) العربية C13) Catalá 14) Íslenska 15) Lietuviškai 16) Dansk 17) Lietuviškai 18) Polski 19) Norsk 20) Suomi 21) Română This global event of global solidarity with #OccupyGezi has been CENSORED THREE TIMES now.
FB PAGE International March to Athens
March to Athens Google+
March To Athens Official Web