Web Tools
Free Website Thumbnails for Websites
thumbalizr – BETA stage ! Welcome to the beta stage of thumbalizr. Online and API interfaces have been improved with some new features and better data handling. To make use of the new features, you'll have to sign up at least for the free standard API. After Sign up, the online version is enhanced by capture delay, image quality and encoding (jpg, png) Please check http://www.thumbalizr.com/premiumservices.php for more details on new parameters for API usage.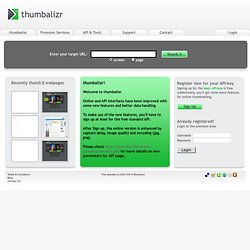 thumb your webpages
FavIcon from Pics -- free favicon.ico for your website (animated, static and marquee icons)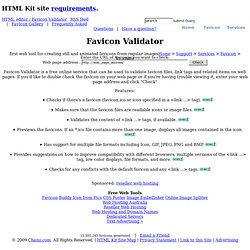 Favicon Validator is a free online service that can be used to validate favicon files, link tags and related items on web pages. If you'd like to double check the favicon on your web page or if you're having trouble viewing it, enter your web page address and click "Check" Features: Checks if there's a favicon (favicon.ico or icon specified in a <link ...> tag). Makes sure that the favicon files are readable icons or image files.
HTML img usemap Attribute
C CSS Validator results for http://thecatholicbusinessnetwork.org (CSS level 2.1)