Stuff i like
Ten Great First Motorcycles - Best First Motorcycles
2. 2012 Honda Rebel ($4,190) Photo © Honda Honda's trusty rebel is a standby at Motorcycle Safety Foundation courses, and its 26.6 inch seat height and mellow 243cc powerplant make it an excellent cruiser for new riders. >>Click here to see the 2012 Honda Lineup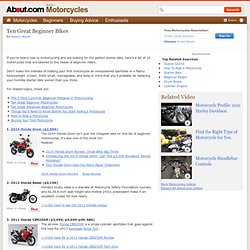 Where would you be the safest if World War 3 broke out tomorrow? Perhaps it's a grim subject, but safety and distance from world conflict can be a motivating factor in your choice to expatriate. At the very least, conflict around the world can weigh heavy on the soul, and it's nice to know there are some places still left in the world where you might be left in peace. Thus, we've assembled a list of the 10 best places to live if you want to escape world conflict. 10. Switzerland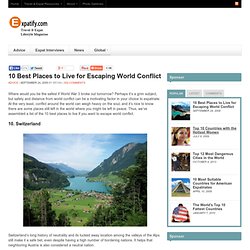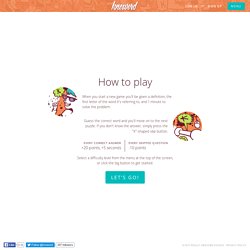 Knoword is a quick thinking game that helps boost vocabulary, spelling, speed of thought, as well as increasing analytical, observational and typing skills. When you begin, you will be greeted with a single letter. Underneath will be a dictionary definition to a word, which will begin with the letter in the box. Fill in the rest of the word and be rewarded with points and extra time.
You've heard of freewriting, certainly. At its most basic, it's about forcing your internal editor to stay away while you splash your most raw and unusual thoughts onto the page. In Accidental Genius: Using Writing to Generate Your Best Ideas, Insights, and Content (2nd edition, revised & updated), Mark Levy tells how he uses freewriting, not only to loosen up his writing muscles, but to solve business problems of all kinds. Levy, author, writing teacher, and marketing strategist, shares a few "secrets" for making freewriting an indispensible tool: 5 Freewriting Tips 1.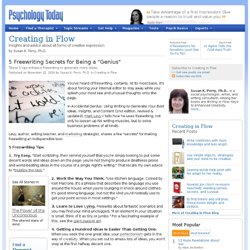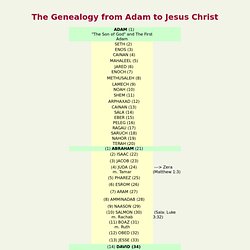 The Line of Jesus through Joseph The book of the genealogy of Jesus Christ, the son of David, the son of Abraham. Abraham was the father of Isaac, and Isaac the father of Jacob, and Jacob the father of Judah and his brothers, and Judah the father of Perez and Zerah by Tamar, and Perez the father of Hezron, and Hezron the father of Ram, and Ram the father of Amminadab, and Amminadab the father of Nahshon, and Nahshon the father of Salmon, and Salmon the father of Boaz by Rahab, and Boaz the father of Obed by Ruth, and Obed the father of Jesse, and Jesse the father of David the king.