LR
10 presets Lightroom gratuits | Image HDR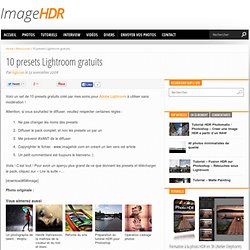 Voici un set de 10 presets gratuits créé par mes soins pour Adobe Lightroom à utiliser sans modération ! Attention, si vous souhaitez le diffuser, veuillez respecter certaines règles : Ne pas changer les noms des presets Diffuser le pack complet, et non les presets un par un Me prévenir AVANT de le diffuser Copyrighter le fichier : www.imagehdr.com en créant un lien vers cet article Un petit commentaire est toujours le bienvenu :)
Utiliser Lightroom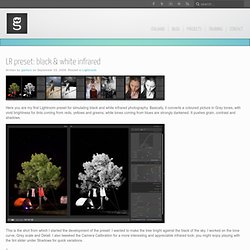 Lightroom's presets: GA B&W infrared 01 | gantico.com/e
Here you are my first Lightroom preset for simulating black and white infrared photography. Basically, it converts a coloured picture in Gray tones, with vivid brightness for tints coming from reds, yellows and greens, while tones coming from blues are strongly darkened. It pushes grain, contrast and shadows. This is the shot from which I started the development of the preset: I wanted to make the tree bright against the black of the sky. I worked on the tone curve, Grey scale and Detail. I also tweeked the Camera Calibration for a more interesting and appreciable infrared look: you might enjoy playing with the tint slider under Shadows for quick variations.
Lightroom is a very powerful image management application database from Adobe, it not only allows professional photographers to manage hundreds and thousands of images, it also allows you to to do high quality post production work, you can also create time saving preset effects that you can use over and over, or you can download some of these professional presets below, and really give your photo some life. 300 Movie Style 6 Black & White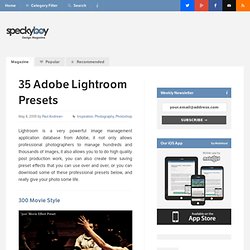 Fuzzy Glow | LightroomLibrary.com - Adobe Lightroom Presets, Tut
Inside Lightroom » Lightroom Links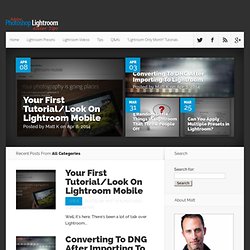 Oct 1 Today I've got another round of Adjustment Brush presets for you in Lightroom 2. These presets focus on some of the basic retouching effects you can achieve with the Adjustment Brush.
Adobe Photoshop Lightroom Killer Tips » Presets Retouching Brus
The power of presets. Mouse over for before image. Get Gavin's Lightroom and Aperture presets on from seimeffects.com The Free Lightroom Presets Directory: by Gavin Seim . (Updated 02/17/2013) One of the most powerful features of Adobe Lightroom is presets.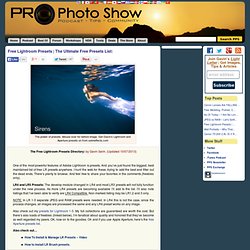 LR2/Blog - Send images to your blog from Adobe Lightoom
Here we are in 2013, and the year's rushing away already. Laura Shoe has written an excellent post on how to update your Metadata presets for your 2013 copyright.* Did you remember to update yours? If not, you can update the metadata on photos shot so far this year. You'll need to find the 2013 photos first, so go to All Photographs in the Catalog panel and then turn on the Metadata filters at the top of the Grid view.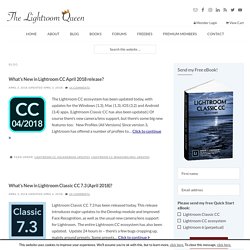 Lightroom Queen Blog