Chernobyl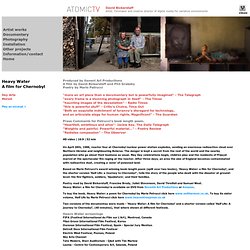 Heavy Water: A film for Chernobyl
Produced by Sevent Art Productions A film by David Bickerstaff and Phil Grabsky Poetry by Mario Petrucci "more an art piece than a documentary but is powerfully imagined" - The Telegraph "every frame is a stunning photograph in itself" - The Times "haunting images of the devastation" - Radio Times "this is powerful stuff" - Critic's Choice, Time Out "Both an exquisite indictment of tyranny's disregard for technology, and an articulate elegy for human rights. Magnificent" - The Guardian
English Russia » Lost City of Chernobyl
"In matters nuclear one thing is certain: there is no protection in an iron curtain."
Nuclear Reactionaries - T. A. Frank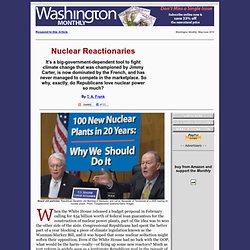 Grand old particles: Republican Senators Jim Bunning of Kentucky and Lamar Alexander of Tennessee at a 2009 hearing on nuclear power.
Chernobyl Legacy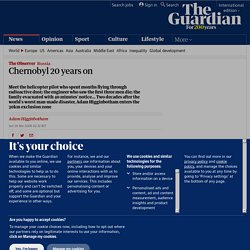 It's late and growing colder; darkness gathers in the stairwell, and nothing breaks the silence but the grinding of broken glass underfoot. Outside, the February snow has settled deeply around a Ferris wheel no one has ever ridden; the clock above the municipal swimming pool remains frozen at six minutes to 12.
Adam Higginbotham: Chernobyl 20 years on | World news | The Observer
The Chernobyl Nuclear Power Plant Information Department has released a new report about ongoing work at the facility. In addition to general information, the report provides background radiation measurements at several plant locations. The measurements are (in milli-Sieverts per hour): Administration building - 0.41 mSv/hr Visitor Center near the Sarcophagus (object "Shelter") - 6.93 mSv/hr Local areas at the Sarcophagus (object "Shelter") - 40.0 mSv/hr Photo by: Mond
Chernobyl Nuclear Power Plant Current Background Radiation Levels - Chernobyl and Eastern Europe Blog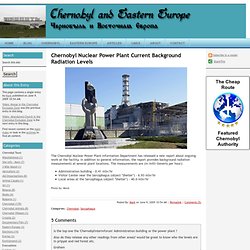 Chernobyl Exclusion Zone 2008-2009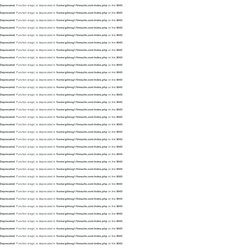 Photography brings me much enjoyment in life.
My visit to the nuclear wasteland of Chernobyl & Pripyat. Viva Ukraine. : pics
These photographs of present-day Chernobyl are utterly haunting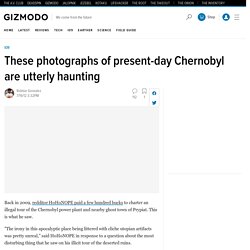 I've wanted to go on a photographic tour of Pripyat/Chernobyl for a long time now, ever since I read some book that featured giant, mutated earthworms from near Chernobyl, because that's what made me realise that there was more than just a power plant, and that there was an entire deserted town there as well. At one point I wanted to find someone that had been forced to evacuate in 1986 and interview them on camera, perhaps making a documentary about it - then I realised that had been done. Then I also thought about shooting a fiction film there, horror perhaps - then I heard about the Chernobyl Diaries.
Nastassia Astrasheuskaya joined Reuters as a correspondent in December 2010.
'Chernobyl Baby' Explains Life In A Fallout Zone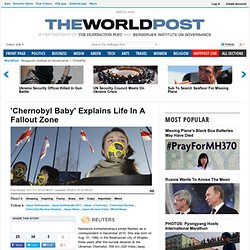 Yablokov%20Chernobyl%20book
WHAT POETRY CAN DO FOR US Resurgence Review, 2004 Philip Gross hears the living voices of Chernobyl. ----------------------------------------------------------------------------------------------------------------------------------------------------------------------------------- Heavy Water: a poem for Chernobyl Mario Petrucci, Enitharmon, London, 2004. £8.95.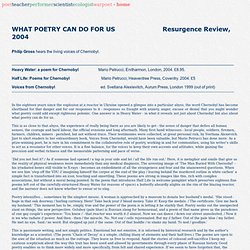 resurgence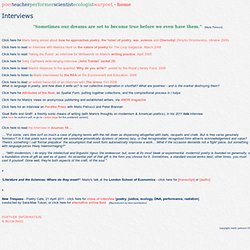 Mario Petrucci – Interviews
Click here for Mario being asked about how he approaches poetry , the 'rules' of poetry , war , science and Chernobyl (Dmytro Drozdovskyi, Ukraine 2006) Click here to read an interview with Melissa Hunt on the nature of poetry for The Loop magazine, March 2008
The Eternities of Poetry An interview with Dmytro Drozdovsyki
MARIO PETRUCCI
Computer impression of the New Safe Confinement to cover No.4 Reactor at Chernobyl
New Safe Confinement
Chernobyl: the true scale of the accident
5 September 2005 | Geneva - A total of up to 4000 people could eventually die of radiation exposure from the Chernobyl nuclear power plant (NPP) accident nearly 20 years ago, an international team of more than 100 scientists has concluded. As of mid-2005, however, fewer than 50 deaths had been directly attributed to radiation from the disaster, almost all being highly exposed rescue workers, many who died within months of the accident but others who died as late as 2004. The new numbers are presented in a landmark digest report, "Chernobyl's Legacy: Health, Environmental and Socio-Economic Impacts," just released by the Chernobyl Forum.
This paper was prepared for the Eleventh Annual Symposium of the Uranium Institute in London, September 2-4, 1986. PUBLIC OPIONION AND NUCLEAR ENERGY: Sweden after Chernobyl Hans L Zetterberg
Sweden after Chernobyl
Chernobyl haunts engineer who alerted world - April 28, 1996
Background (on) radiation
Europe | Chernobyl 'caused Sweden cancers'
More than 800 people in northern Sweden may have developed cancer as a result of the fallout of the 1986 Chernobyl nuclear accident, a new study claims. Swedish scientists said the "Chernobyl effect" was the only likely explanation for 849 cancer cases they came across.
Chernobyl radioactive waste returned
Chernobyl death toll grossly underestimated
chernobylhealthreport
Pictures: "Liquidators" Endured Chernobyl, 25 Years Ago
Inside Chernobyl
Petrified ruin: Chernobyl, Pripyat and the death of the city  | CITY
A second life for the inhabitants of Chernobyl
Slavutych
David McMillan: Chernobyl Photographs
Specificities: A Technical Error: Measures of Life after Chernobyl - Tags: CHERNOBYL Nuclear Accident, Chornobyl, Ukraine, 1986