Chernobyl
Heavy Water: A film for Chernobyl. Produced by Sevent Art Productions A film by David Bickerstaff and Phil Grabsky Poetry by Mario Petrucci "more an art piece than a documentary but is powerfully imagined" - The Telegraph "every frame is a stunning photograph in itself" - The Times "haunting images of the devastation" - Radio Times "this is powerful stuff" - Critic's Choice, Time Out "Both an exquisite indictment of tyranny's disregard for technology, and an articulate elegy for human rights.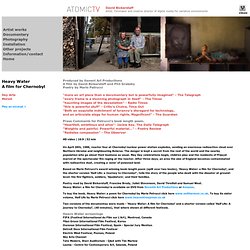 Magnificent" - The Guardian. English Russia » Lost City of Chernobyl. "In matters nuclear one thing is certain: there is no protection in an iron curtain."
A letter in The Times May 3rd, 1986. On the 26th of April 1986 shortly after midnight, to be precise, at 1:23 GMT, there occurred near the Ukrainian town of Chornobyl a tremendous explosion at a huge nuclear power plant, followed by a gradual meltdown of the reactor No. 4. Chornobyl is situated 80 miles north-west of Kiev, the ancient capital of Ukraine and the Soviet Union's third largest city. It was by far the worst nuclear reactor accident ever, which immediately sent a radioactive cloud across neighbouring Byelorussia, Poland and the Baltic Republics towards Scandinavia. Nuclear Reactionaries - T. A. Frank. Grand old particles: Republican Senators Jim Bunning of Kentucky and Lamar Alexander of Tennessee at a 2009 hearing on nuclear power.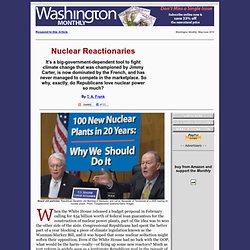 Photo: Congressional Quarterly/Getty Images. hen the White House released a budget proposal in February calling for $54 billion worth of federal loan guarantees for the construction of nuclear power plants, part of the idea was to woo the other side of the aisle. Congressional Republicans had spent the better part of a year blocking a piece of climate legislation known as the Waxman-Markey Bill, and it was hoped that some nuclear seduction might soften their opposition. Even if the White House had no luck with the GOP, what would be the harm—really—of firing up some new reactors? Fukushima... Chernobyl Legacy. Adam Higginbotham: Chernobyl 20 years on | World news | The Observer. It's late and growing colder; darkness gathers in the stairwell, and nothing breaks the silence but the grinding of broken glass underfoot.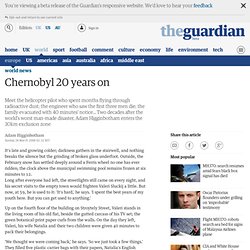 Outside, the February snow has settled deeply around a Ferris wheel no one has ever ridden; the clock above the municipal swimming pool remains frozen at six minutes to 12. Long after everyone had left, the streetlights still came on every night, and his secret visits to the empty town would frighten Valeri Sluckij a little. But now, at 59, he is used to it: 'It's hard,' he says. 'I spent the best years of my youth here. But you can get used to anything.' Chernobyl Nuclear Power Plant Current Background Radiation Levels - Chernobyl and Eastern Europe Blog. The Chernobyl Nuclear Power Plant Information Department has released a new report about ongoing work at the facility.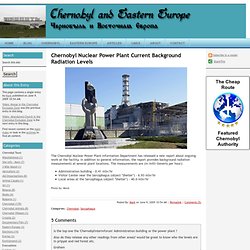 In addition to general information, the report provides background radiation measurements at several plant locations. The measurements are (in milli-Sieverts per hour):Administration building - 0.41 mSv/hrVisitor Center near the Sarcophagus (object "Shelter") - 6.93 mSv/hrLocal areas at the Sarcophagus (object "Shelter") - 40.0 mSv/hrPhoto by: Mond. Chernobyl Exclusion Zone 2008-2009. My visit to the nuclear wasteland of Chernobyl & Pripyat. Viva Ukraine. : pics. These photographs of present-day Chernobyl are utterly haunting. Even in an orderly evacuation, there are often people who don't want to go for various reasons, or just unruly kids, that might need to be dragged out for their own safety.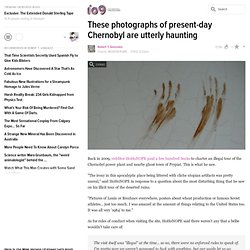 Most of the news coverage was pretty heavily filtered and censored at the time, so if there were isolated problems, it is unlikely that they'd have been documented well. Of course, given the time elapsed, they may not be blood (all sorts of natural fungus/lichen are rust colored.) Not to be a buzzkill, but I'm guessing that's paint. Or something not at all related to the accident, or evacuation. 'Chernobyl Baby' Explains Life In A Fallout Zone. Nastassia Astrasheuskaya joined Reuters as a correspondent in December 2010.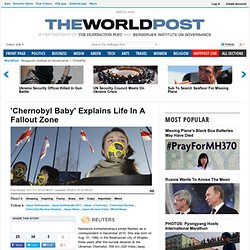 She was born on Aug. 31, 1989, in the Belarussian city of Mogilev, three years after the nuclear disaster at the Ukrainian Chernobyl, 500 km (320 miles) away. By Nastassia Astrasheuskaya MOSCOW (Reuters) - I wasn't even born when Chernobyl blew up, but its deadly legacy haunted my childhood. One girl at my school had six fingers on one hand.
Mario Petrucci. Resurgence. WHAT POETRY CAN DO FOR US Resurgence Review, 2004 Philip Gross hears the living voices of Chernobyl.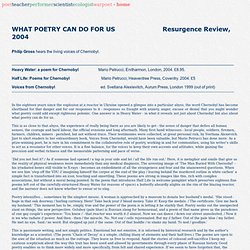 -----------------------------------------------------------------------------------------------------------------------------------------------------------------------------------Heavy Water: a poem for Chernobyl Mario Petrucci, Enitharmon, London, 2004. £8.95. Mario Petrucci – Interviews. Click here for Mario being asked about how he approaches poetry, the 'rules' of poetry, war, science and Chernobyl (Dmytro Drozdovskyi, Ukraine 2006) Click here to read an interview with Melissa Hunt on the nature of poetry for The Loop magazine, March 2008 Click here to read 'Taking the Pulse': an interview for Writewords on Mario's writing practice, April 2005 Click here for Sally Carthew's wide-ranging interview (John Tranter/ Jacket 25) Click here to read Mario's response to the question 'Why do you write?'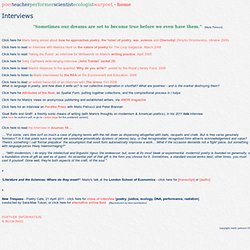 , posed by the Royal Literary Fund, 2009. MARIO PETRUCCI. The Eternities of Poetry An interview with Dmytro Drozdovsyki [Kyiv, Ukraine] How did you start writing?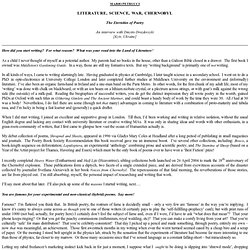 For what reason? What was your road into the Land of Literature?
New Safe Confinement. The New Safe Confinement under construction The New Safe Confinement (NSC or New Shelter) is the structure intended to contain the nuclear reactor at Chernobyl, Ukraine, part of which was destroyed by the Chernobyl disaster in 1986. The primary goal of the NSC is to prevent the reactor complex from leaking radioactive material into the environment and the secondary goal is to allow a future partial deconstruction of the old structure. A part of the Shelter Implementation Plan funded by the Chernobyl Shelter Fund, the NSC is designed to contain the radioactive remains of Chernobyl Unit 4 for the next 100 years.
It is intended to replace the present sarcophagus, which was hastily constructed by Chernobyl liquidators after a "beyond design-basis accident" destroyed reactor 4 on April 26, 1986. Chernobyl: the true scale of the accident. Sweden after Chernobyl. This paper was prepared for the Eleventh Annual Symposium of the Uranium Institute in London, September 2-4, 1986. PUBLIC OPIONION AND NUCLEAR ENERGY: Sweden after Chernobyl Hans L Zetterberg. Chernobyl haunts engineer who alerted world - April 28, 1996.
Chernobyl 'caused Sweden cancers' More than 800 people in northern Sweden may have developed cancer as a result of the fallout of the 1986 Chernobyl nuclear accident, a new study claims. Swedish scientists said the "Chernobyl effect" was the only likely explanation for 849 cancer cases they came across. But their findings met with scepticism from some other experts who think the radiation fallout in Sweden was not likely to cause such a rise in cases. A radioactive cloud swept across north Europe after the disaster in Ukraine. The study monitored cancer cases among more than 1.1 million people exposed to radioactive fallout in northern Sweden between 1988 and 1996. Martin Tondel, a researcher at Sweden's Linkoeping University who headed the study, said that, of 22,400 cancer cases, 849 could be statistically attributed to Chernobyl. Chernobyl radioactive waste returned. Collecting soil samples from areas contaminated by the Chernobyl disaster.
To confront the IAEA with the realities of nuclear power we placed a250kg concrete container containing two 1kg radioactive samples intothe lobby of the UN agency building in Vienna. To ensure public safety, thesoil samples delivered to the IAEA were placed in a container with concrete and lead shielding. But where the samples were collected there are no such safeguards foranyone. The radioactive soil was taken from locations between 40km and50km from the Chernobyl reactor - in areas well outside the exclusionzone in which people have free access. Chernobyl death toll grossly underestimated. Feature story - April 18, 2006 A new Greenpeace report has revealed that the full consequences of the Chernobyl disaster could top a quarter of a million cancer cases and nearly 100,000 fatal cancers.
In the cancer ward of a Kiev hospital in the Ukraine, 19-year-old Elena is being treated for her second case of thyroid cancer in just 3 years Our report involved 52 respected scientists and includesinformation never before published in English. It challenges the UN International Atomic Energy Agency Chernobyl Forum report, which predicted 4,000 additional deaths attributable to the accident as a gross simplification of the real breadth of human suffering. The new data, based on Belarus national cancer statistics, predicts approximately 270,000 cancers and 93,000 fatal cancer cases caused by Chernobyl. Chernobylhealthreport. "Liquidators" Endured Chernobyl, 25 Years Ago. Inside Chernobyl. Petrified ruin: Chernobyl, Pripyat and the death of the city  | CITY. A second life for the inhabitants of Chernobyl. Slavutych.
David McMillan: Chernobyl Photographs.
---