WordPress
More than 170 Best and Fresh WordPress Resources and Blogs, 2012 Edition. Seeing how WordPress has become the favorite of many when it comes to going through an easy-breezy process while designing a stunning site or blog, well, we decided to sum up the top 160 best online sources with the latest and most complete information on WordPress: resources, plug-ins, themes, trends, news, etc., so the next time that you come across a web design project on WordPress you have a listing to go to that's updated and useful (for real).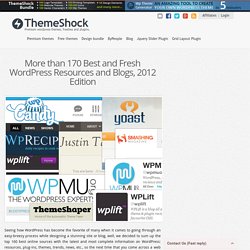 Weather your thing is blogs on wp topics, following twitter accounts from hard core wp developers, or just getting a hold of any wp resource you can get your hands on, here you'll find it all just a click away. Please let us know in comments if we missed something. WP Candy Wp Candy wrangles all the important topics and contents on WP together for the blogging, creative, and developing WP community. Hybrid Core: WordPress theme development framework. Hybrid Core is a WordPress theme development framework for creating solid parent themes.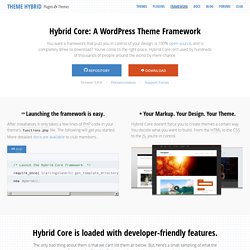 It allows theme developers to forget about all the complex functionality and dive straight into coding their theme's HTML, CSS, and JavaScript. The purpose of Hybrid Core is to have a solid PHP code base for theme developers to build from. It is a modular framework that allows the developer to pick and choose commonly-used features in themes. If building custom themes on top of a true framework interests you, please read the more-detailed explanation of Hybrid Core. Premium WordPress Themes by RichWP. Wordpress internet marketing. Tutorials. We get a lot of comments on our blog from our awesome members, but it can be hard to keep track of comments.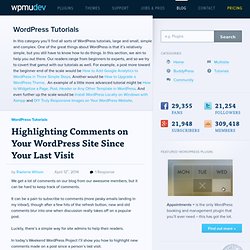 It can be a pain to subscribe to comments (more pesky emails landing in my inbox!) , though after a few hits of the refresh button, new and old comments blur into one when discussion really takes off on a popular post. Luckily, there's a simple way for site admins to help their readers. In today's Weekend WordPress Project I'll show you how to highlight new comments made on a post since a person's last visit.
Translate a WordPress Theme in 3 Easy Steps | Solostream. Last updated on Lately, more and more people are asking us how to translate a WordPress theme into a language other than English.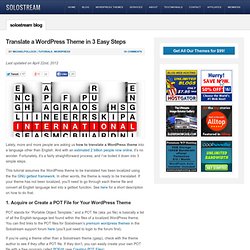 And with an estimated 2 billion people now online, it's no wonder. Fortunately, it's a fairly straightforward process, and I've boiled it down into 3 simple steps. This tutorial assumes the WordPress theme to be translated has been localized using the the GNU gettext framework. In other words, the theme is ready to be translated. Plugins. Wordpress. Going Flat With 15 Free WordPress Themes Flat design is a staunch, no nonsense design philosophy which requires more in the way of performance, while omitting all the bells and whistles of its busier, gaudier, and aesthetic heavy counterparts.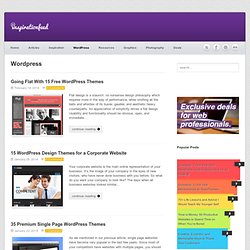 An appreciation of simplicity drives a flat design. Usability and functionality should be obvious, open, and immediate.... WordPress Affiliate Platform Plugin - Simple Affiliate Program for WordPress Blog/Site.
WordPress Setup Guide. WP SECURITY. WP Themes.
---