Positive
Build Your Own Etsy-Like Multi-Vendor Marketplace w/Wordpress & This Incredible Deal. Can this be built for hard goods?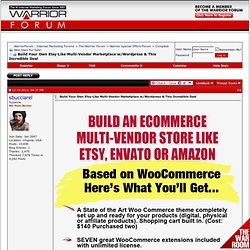 Yes. Woocommerce is a full ecommerce extension for Wordpress that supports digital, affiliate and physical products. Do you have an example of a physical goods woocommerce store? Yes. mayhemsurvival.com. I haven't set this up as a multi-vendor store yet, but that could be done in 5 minutes. PLR Wordpress Plugin - WP Sales Automator. Wordpress Plugin That Helps Automate Your Product & Membership Sales!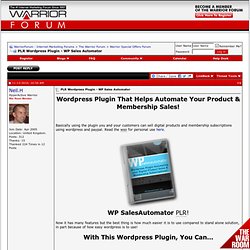 Basically using the plugin you and your customers can sell digital products and membership subscriptions using wordpress and paypal. Read the wso for personal use here. SureFireOffer.com. The Best Membership Software Online... Rapid Residual Pro - Multi Vendor Digital Download Store idev-DigiMall 2.0. Store-front features Your products can include an unlimited photo-gallery with light-box preview.Create coupon discount codes.Unlimited category and sub-category system.Toggle between product grid-view and list-view modes.Visitors can add multiple download items to their cart.Search engine optimized with search engine friend URL's, meta tags and page titles.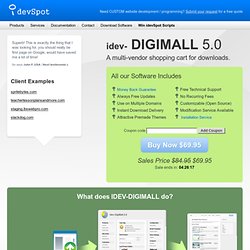 Instant download delivery features Instantly delivers the purchased product to your customer as soon as they have completed payment. Insta-download feature negates the need for download instructions to be delivered via email (tho as a backup, this still happens). Affiliate Network Pro - Start your own affiliate program network. Affiliate tracking software by AlstraSoft. Internet affiliate marketing is the most effective way of generating extra profits for you or your merchant's website by using revenue sharing advertising between merchants and their affiliates.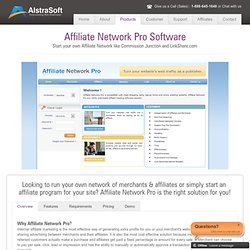 It is also the most cost effective solution because merchants only pay if referred customers actually make a purchase and affiliates get paid a fixed percentage or amount for every sale. A Merchant can choose to pay per sale, click, lead or impression and has the ability to manually or automatically approve a transaction as well as affiliate accounts. Using our Affiliate Network Pro software, affiliates will be able to promote the merchant's services or products to potential customers in their website via email, text links, banners ads, pop-out banners and even flash ads!
Multi-Vendor Shopping Cart Edition of CS-Cart Ecommerce Software Solution. Multi-Vendor Multi-Vendor is an extended CS-Cart product that enables you to create an online marketplace where multiple vendors can manage sales of their own products through one common web store.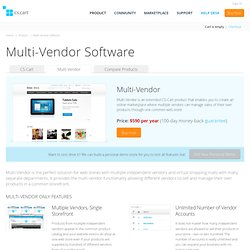 Price: $590 per year (100-day money-back guarantee) Buy now Want to test drive it? We can build a personal demo store for you to test all features live! Multiple Vendors, Single Storefront. MultiCart - Multi vendor shopping cart. Launch a Thriving Multi-Seller Marketplace Whether you are looking to create a marketplace for the first time or already have an existing ecommerce website, iScripts MultiCart offers the features and functionality you need for a successful online store.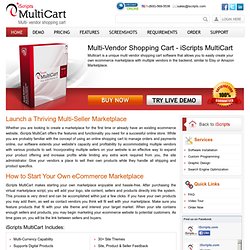 While you are probably familiar with the concept of using an online shopping cart to manage orders and payments online, our software extends your website's capacity and profitability by accommodating multiple vendors with various products to sell. Incorporating multiple sellers on your website is an effective way to expand your product offering and increase profits while limiting any extra work required from you, the site administrator. Give your vendors a place to sell their own products while they handle all shipping and product specifics. X Cart Free trial is available.
---