For Tutors
Download free e-learning Case Studies, White Papers and E-Books
6-way videos Audio chat with unlimited attendees Full screen camera Screen sharing Unlimited Whiteboards Polling
Plans & Pricing
GPA Teacher Features: Overview (Student and Parent Access, Classroom Management Software)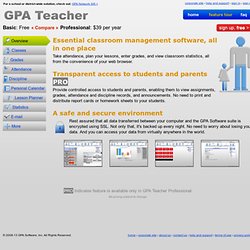 Loading Enlarged Screenshot... Take attendance, plan your lessons, enter grades, and view classroom statistics, all from the convenience of your web browser. Provide controlled access to students and parents, enabling them to view assignments, grades, attendance and discipline records, and announcements. No need to print and distribute report cards or homework sheets to your students.
Busy Teacher's Store
Welcome to Knowledge HQ, eTutor - the educational website and virtual learning system for K-12 students. eTutor offers the best in educational content, as well as services for educators and parents. eTutor is an innovation in virtual learning that can be used anywhere there is Internet access. We are pleased that you are interested in applying for a tutoring position using the eTutor program. Before you continue can you answer the following questions?
Becoming an e-Tutor Online Tutor | e-Tutor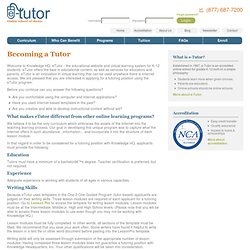 Become a Tutor.com Tutor: Work at Home, help students and earn extra income - Tutor.com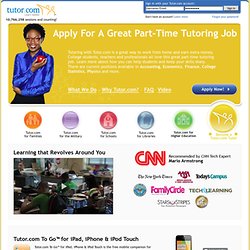 IAC (NASDAQ:IACI) today announced the company has completed the acquisition of Tutor.com, an online tutoring solution... Kendall Hunt Publishing Company has announced the development of a new professional development partnership designed to enhance its already-strong roster of professional development programs and services.... Truenorthlogic, the leading provider of comprehensive human capital management systems for K-12 education agencies selected MyLivePD™ Online Coaching Service from Tutor.com, the highest-rated live tutoring and coaching services company, to integrate with their Coaching and Mentoring system....
become tutor, tutor online, tutoring jobs, tutor jobs and tutoring online