Apps
buzztouch | Free iPhone and Android App Builder and Content Management System
Go Mobile in 3 Super-Simple Steps | Conduit Mobile
Native Apps Builder Mobile Plugin Wordpress | Create Native Apps For Your Wordpress Sites
How To Create,Iphone Apps, Iphone Games Iphone Secrets
Bizness Apps - iPhone, Android, HTML5, & iPad apps for small businesses
Android App Creator Software | Android App Builder | Android App Tutorial
Android App Development | Android App Developers | Android App Quotes
AppTank For App Developer Projects! - Apps Development - App Development on iPhone and Android
iPhone Developer | iPhone App Developers | iPhone Application Development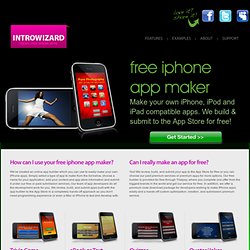 Create Free iPhone Apps
We've created an online app builder which you can use to easily make your own iPhone apps. Simply select a type of app to make from the list below, choose a name for your application, add your content and app store information and submit it under our free or paid submission services. Our team of app developers do all the development work for you. We review, build, and submit apps built with the app builder to the App Store in a completely hands off approach so you don't need programming experience or even a Mac or iPhone to test and develop with. Yes! We review, build, and submit your app to the App Store for free or you can choose our paid premium services or premium apps for more options.
android - What language was used to make Jetpack Joyride
Struct.ca | Words On Play
Effective marketing strategies for independent game projects
iphone - Marketing: Angry Birds - How it's done
zynga/FontLabel - GitHub
iPhone Dev Depot : HomePage
creating mobile applications helping you build your mobile audience
Best Sites
iPhone Dev SDK Forum - Powered by vBulletin
Movisol
Buy Sell Mobile Application Source Code | Sell iphone, android, symbian, or other app Source Code online.
Developers - Developer Website
OneAPI is a global GSMA initiative to provide application programming interfaces (APIs) that enable applications to exploit mobile network capabilities, such as messaging, authentication, payments and location-finding with a cross-operator reach. For example, a messaging network API could be used to enable an app to send an SMS message to another device, while a payment network API could be used to add an in-app purchase to the user's mobile phone bill. Major operators, such as AT&T, Deutsche Telekom, Orange, Telefonica and Vodafone, Rogers, Bell Canada, TELUS, are working with the OneAPI initiative to expose network APIs through their developer programmes.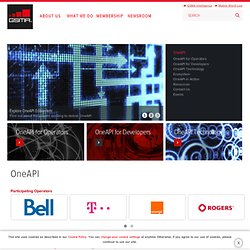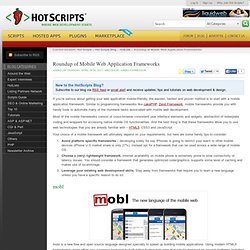 Roundup of Mobile Web Application Frameworks
If you're serious about getting your web application mobile-friendly, the easiest, fastest and proven method is to start with a mobile application framework. Similar to programming frameworks like cakePHP , Zend Framework , mobile frameworks provide you with handy tools to automate many of the mundane tasks associated with mobile web development. Most of the mobile frameworks consist of cross-browser consistent user interface elements and widgets, abstraction of boilerplate coding and wrappers for accessing native mobile OS functionalities. And the best thing is that these frameworks allow you to use web technologies that you are already familiar with – HTML5 , CSS3 and JavaScript.
How It Works
App Store Analytics | All Major App Stores | Free | Distimo Monitor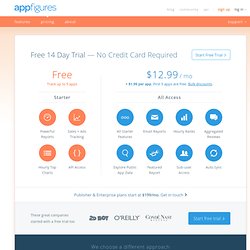 Plans & Pricing | iTunes Connect Sales Analytics | Worldwide App Store Reviews | Top 400 Hourly Updated App Store Ranks | iAds Tracking
How does the 14-day free trial work? The free trial is for the Premium and Publisher plans and is 100% free for 14 days. We will only ask for your credit card details if you decide to upgrade to a paid plan.