QR Articles
Free Tools to Generate Your Own QR Code. Posted by Katherine Meyer on August 8, 2011 · 3 Comments This is V3im on QR Codes...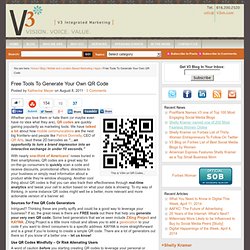 Whether you love them or hate them (or maybe even have no idea what they are), QR codes are quickly gaining popularity as marketing tools. We have talked a lot about how mobile communications are the next big frontiers–and people like Patrick Donnelly, CEO of QR Arts, laud these 2D barcodes as "…an opportunity to turn a brand impression into an interactive exchange in under 10 seconds." How to Use Barcodes at Conferences (and Why You Might Want To) Audiences for oral presentations and poster sessions at academic conferences often want more information about a particular topic.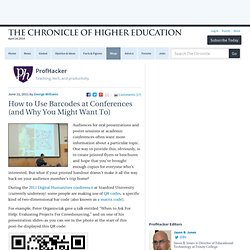 One way to provide this, obviously, is to create printed flyers or brochures and hope that you've brought enough copies for everyone who's interested. But what if your printed handout doesn't make it all the way back on your audience member's trip home? During the 2011 Digital Humanities conference at Stanford University (currently underway) some people are making use of QR codes, a specific kind of two-dimensional bar code (also known as a matrix code).
For example, Peter Organisciak gave a talk entitled "When to Ask For Help: Evaluating Projects For Crowdsourcing," and on one of his presentation slides–as you can see in the photo at the start of this post–he displayed this QR code: Those of us in the audience with smartphone apps that can read (and interpret) QR codes were able to snap a picture using the camera and then visit the associated page online. A QR Code tells a much bigger story than a barcode. June 21, 2011 EDMONTON, AB, June 21, 2011/ Troy Media/ – If a picture is worth a thousand words, then a QR Code can be worth tens of thousands or maybe even more.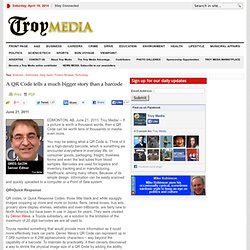 You may be asking what a QR Code is. HOW TO: Make Your QR Codes More Beautiful. Hamilton Chan is CEO and founder of Paperlinks.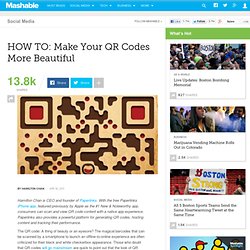 With the free Paperlinks iPhone app, featured previously by Apple as the #1 New & Noteworthy app, consumers can scan and view QR code content with a native app experience. Paperlinks also provides a powerful platform for generating QR codes, hosting content and tracking their performance. The QR code: A thing of beauty or an eyesore? QR Codes: How To Create Your Own. What's black and white and super-confusing to wrap your head around?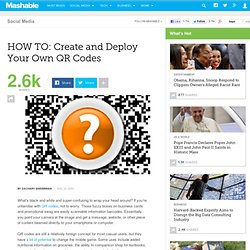 If you're unfamiliar with QR codes, not to worry. Those fuzzy boxes on business cards and promotional swag are easily scannable information barcodes. Essentially, you point your camera at the image and get a message, website, or other piece of content beamed directly to your smartphone or computer. QR codes are still a relatively foreign concept for most casual users, but they have a lot of potential to change the mobile game. Using Twitter & QR Codes at Conferences. [This is a guest post by Katy Meyers, a graduate student in the department of anthropology at Michigan State University.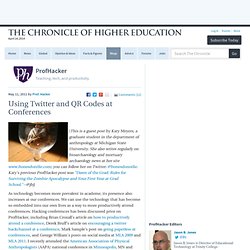 She also writes regularly on bioarchaeology and mortuary archaeology news at her site www.bonesdontlie.com; you can follow her on Twitter: @bonesdonotlie. Katy's previous ProfHacker post was "Dawn of the Grad: Rules for Surviving the Zombie Apocalypse and Your First Year at Grad School. " QR Code Tools. The quick-response code is the hipster marketing must-have of the moment.
Here's a look at what you'll need to get started. We all use bar codes to buy things. Now small businesses may be able to use them to sell things. For pure techno hip factor, it's tough to beat quick response codes. Known as QR codes, these bizarre-looking, black-and-white gridded squares are actually straightforward: They render information in a way that digital devices can easily understand. Is This the Beginning of the End for QR? QR, is already time to say goodbye?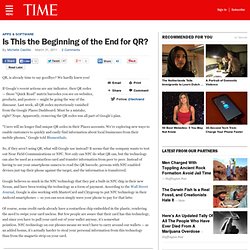 We hardly knew you! If Google's recent actions are any indicator, then QR codes — those "Quick Read" matrix barcodes you see on websites, products, and posters — might be going the way of the dinosaur. Last week, all QR codes mysteriously vanished from the Google Places Dashboard. What Is A QR Code & Why Do You Need One? We all know that one of the keys to great SEO is making sure you keep your website updated, new and fresh.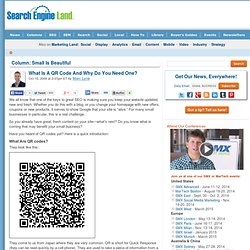 Whether you do this with a blog, or you change your homepage with new offers, coupons or new products, it serves to show Google that your site is "alive." For many small businesses in particular, this is a real challenge. So you already have great, fresh content on your site—what's next? Do you know what is coming that may benefit your small business? Have you heard of QR codes yet? How QR Codes Can Grow Your Biz. What are QR codes and how can they help your business?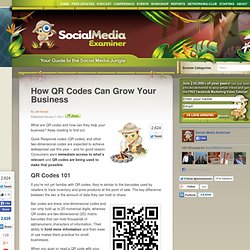 Keep reading to find out. Quick Response codes (QR codes) and other two-dimensional codes are expected to achieve widespread use this year – and for good reason. Consumers want immediate access to what's relevant and QR codes are being used to make that possible. QR Codes Gaining Prominence. 5 Unique Uses 4 QR Codes. Dana Oshiro is an irreverent writer with a love of mahjong, the internets & niu ro mien. She authors a blog at hiyaablog.com . Anyone with a smartphone can scan and read QR codes with the click of a camera, and anyone with access to a computer can generate QR codes themselves. BayBrain's Snappr.net offers a QR bar code generator and links to a comprehensive list of software for code reading.
By scanning the codes, you can access images, websites and text. By creating the codes, you can produce your own messages. Why QR Codes Will Go Mainstream. QR codes & smartphones. OKLAHOMA CITY (BP)--Recently the news has focused on how the use of smartphones has given a wake-up call to politicians as the phones have been instrumental changing politics in Egypt, Tunisia and Libya. But smartphones are not only toppling powerful dictators. Recently they also have been reported to have deposed another unchallenged king of the mountain: the personal computer.
---