QR Articles
Free Tools to Generate Your Own QR Code
Posted by Katherine Meyer on August 8, 2011 · 3 Comments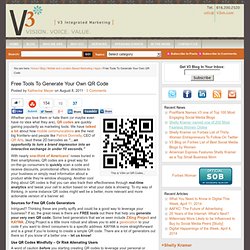 So it is time to order new business cards.
How To Create A QR Code Business Card With Ease
How to Use Barcodes at Conferences (and Why You Might Want To)
Audiences for oral presentations and poster sessions at academic conferences often want more information about a particular topic. One way to provide this, obviously, is to create printed flyers or brochures and hope that you've brought enough copies for everyone who's interested.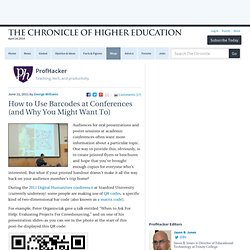 June 21, 2011 EDMONTON, AB, June 21, 2011/ Troy Media/ – If a picture is worth a thousand words, then a QR Code can be worth tens of thousands or maybe even more. You may be asking what a QR Code is.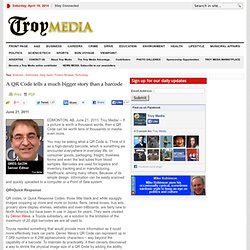 A QR Code tells a much bigger story than a barcode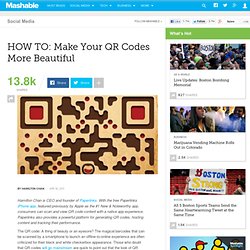 Hamilton Chan is CEO and founder of Paperlinks.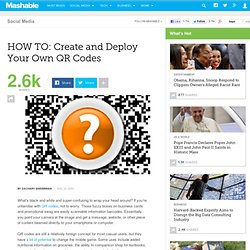 QR Codes: How To Create Your Own
What's black and white and super-confusing to wrap your head around?
Using Twitter & QR Codes at Conferences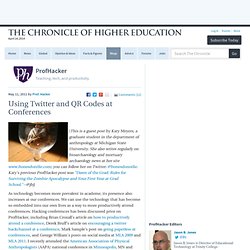 [This is a guest post by Katy Meyers, a graduate student in the department of anthropology at Michigan State University. She also writes regularly on bioarchaeology and mortuary archaeology news at her site www.bonesdontlie.com; you can follow her on Twitter: @bonesdonotlie. Katy's previous ProfHacker post was "Dawn of the Grad: Rules for Surviving the Zombie Apocalypse and Your First Year at Grad School."
QR Code Tools
The quick-response code is the hipster marketing must-have of the moment. Here's a look at what you'll need to get started.
QR, is already time to say goodbye?
Is This the Beginning of the End for QR?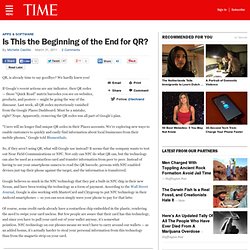 What Is A QR Code & Why Do You Need One?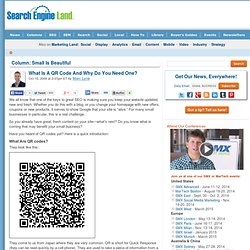 We all know that one of the keys to great SEO is making sure you keep your website updated, new and fresh. Whether you do this with a blog, or you change your homepage with new offers, coupons or new products, it serves to show Google that your site is "alive."
What are QR codes and how can they help your business?
QR Codes Gaining Prominence
Dana Oshiro is an irreverent writer with a love of mahjong, the internets & niu ro mien. She authors a blog at hiyaablog.com .
5 Unique Uses 4 QR Codes
Why QR Codes Will Go Mainstream
QR codes & smartphones
OKLAHOMA CITY (BP)--Recently the news has focused on how the use of smartphones has given a wake-up call to politicians as the phones have been instrumental changing politics in Egypt, Tunisia and Libya. But smartphones are not only toppling powerful dictators. Recently they also have been reported to have deposed another unchallenged king of the mountain: the personal computer.