Jordan & Mena- Tech & Social Media
Active JoTweeps by Khaled Ahmad. Opinion :: Commentary :: GCC membership may be a burden on Jordan's security. On May 10, at their 13th consultative summit, Gulf Cooperation Council leaders accepted Jordan's application for membership, noting that it had originally been tendered 15 years ago.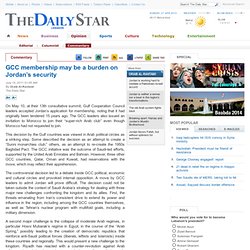 The GCC leaders also issued an invitation to Morocco to join their "super-rich Arab club" even though Morocco had not requested to join. This decision by the Gulf countries was viewed in Arab political circles as a striking step. Some described the decision as an attempt to create a "Sunni monarchies club;" others, as an attempt to re-create the 1950s Baghdad Pact. The GCC initiative was the outcome of Saudi-led efforts, supported by the United Arab Emirates and Bahrain. However, three other GCC countries, Qatar, Oman and Kuwait, had reservations with the move, which may reflect their apprehension. Experiencing the Pleasure that is Petra, Jordan. Greetings, You can travel to the ends of the earth in a lifetime or only as far as your corner store and you'll be equally prepared for the sights that are Petra, Jordan.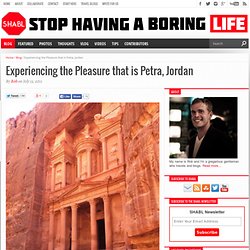 Nothing can prepare you for the sense of euphoria that overtakes your body like that Lexus did on your way to work the other day. When you start weaving near the end of the siq and your eyes get their first glance of the Treasury, you'll feel something that can't be replicated, duplicated or anticipated. Five Amazing Things to Do in Jordan. For a country as small as Jordan, I never expected it to deliver so many amazing experiences packed into one trip.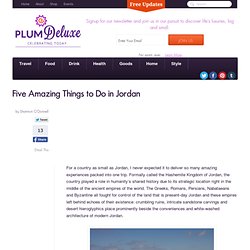 Formally called the Hashemite Kingdom of Jordan, the country played a role in humanity's shared history due to its strategic location right in the middle of the ancient empires of the world. The Greeks, Romans, Persians, Nabataeans and Byzantine all fought for control of the land that is present-day Jordan and these empires left behind echoes of their existence: crumbling ruins, intricate sandstone carvings and desert hieroglyphics place prominently beside the conveniences and white-washed architecture of modern Jordan. Although a vast majority of Jordan is covered by the Arabian Desert, I found the country surprisingly fertile in other areas; I enjoyed the lush green hillsides and crisp chilly air in the mountains of Ajloun as much as baking in the heat and the simmering mirages of the country's desert landscapes.
Customs,film. By Yusuf Mansur The movie theatres in Jordan haven't been showing any new movies for weeks now.
The reason is that the Customs Department is seeking new ways and means to levy an additional tax on movies. The story, with its many angles, points to policy failure, particularly when it comes to the economy. Blogs. I was so proud yesterday seeing the Jordanian Flag on stage – as Oasys Team, the Jordan Champion, has qualified to the second round at the Imagine Cup 2011 Finals in New York!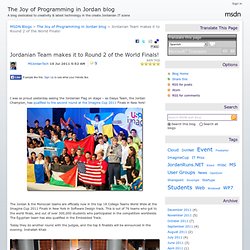 The Jordan & the Moroccan teams are officially now in the top 18 College Teams World Wide at the Imagine Cup 2011 Finals in New York in Software Design track. This is out of 76 teams who got to the world finals, and out of over 300,000 students who participated in the competition worldwide. Roasted Eggplant in Jordan: Recipe and Photos. There's a common misconception that mouttabal (also spelled moutabbal or muttabal, depending on the country) is the same thing as baba ghanoush.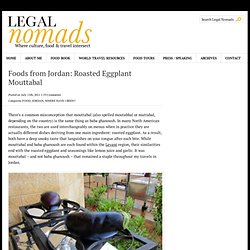 In many North American restaurants, the two are used interchangeably on menus when in practice they are actually different dishes deriving from one main ingredient: roasted eggplant. As a result, both have a deep smoky taste that languishes on your tongue after each bite. While mouttabal and baba ghanoush are each found within the Levant region, their similarities end with the roasted eggplant and seasonings like lemon juice and garlic. It was mouttabal – and not baba ghanoush – that remained a staple throughout my travels in Jordan. Mouttabal vs. Imad Naffa (imadnaffa) Twitter tweets related to: Drama, Movie, Incendies, Montreal, Dollars and more. Imad Naffa (imadnaffa) Twitter Trending Topic : Amman.
Hollywood boycott Jordan courtesy of the Jordanian Customs Authorities | Sleepless in Amman. 2inShare A friend of mine tagged me in the photo in this blog on Facebook, an announcement by Prime Cinema's that says the following: "Prime Cinemas regret to inform you that, for the 3rd consecutive week, no new films will be released in Jordan.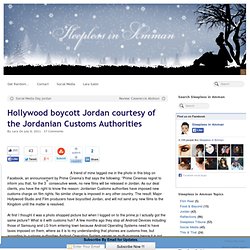 As our deal clients, you have the right to know the reason: Jordanian Customs authorities have imposed new customs charge on film rights. No similar charge is imposed in any other country. The result: Major Hollywood Studio and Film producers have boycotted Jordan, and will not send any new films to the Kingdom until the matter is resolved. At first I thought it was a photo shopped picture but when I logged on to the prime.jo I actually got the same picture? Imad Naffa (imadnaffa) Twitter Trending Topic : Jo. "Palestinian Reinvents Jordan Pharmacies # Jo #Jordan #amjdaryan" "RT @QueenRania A blessed #Eid to all of you and your loved ones. # JO " "RT @khaledkhanfar Hurt Me With a Truth, But Never Comfort Me With a Lie !!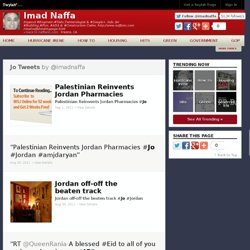 #cpaexam # jo #amman" Imad Naffa (imadnaffa) Twitter tweets related to: Great resource, Video, Amman, Jo, Jordan and more. TNW Middle East. Jordan Tops Arab World's in Cellular Market. ­Jordan is the Arab World's most competitive cellular market, according to the Arab Advisors Group.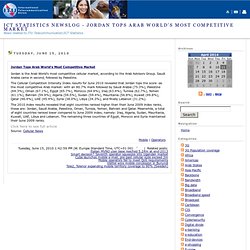 Saudi Arabia came in second, followed by Palestine. The Cellular Competition Intensity Index results for June 2010 revealed that Jordan tops the score -as the most competitive Arab market- with an 80.7% mark followed by Saudi Arabia (75.3%), Palestine (69.3%), Oman (67.1%), Egypt (65.7%), Morocco (64.9%), Iraq (63.4%), Tunisia (62.7%), Yemen (61.1%), Bahrain (59.9%), Algeria (59.5%), Sudan (59.4%), Mauritania (56.8%), Kuwait (49.8%), Qatar (46.4%), UAE (45.4%), Syria (38.0%), Libya (34.3%), and finally Lebanon (31.2%).
The 2010 index results revealed that eight countries ranked higher than their June 2009 index ranks, these are: Jordan, Saudi Arabia, Palestine, Oman, Tunisia, Yemen, Bahrain and Qatar. Meanwhile, a total of eight countries ranked lower compared to June 2009 index, namely: Iraq, Algeria, Sudan, Mauritania, Kuwait, UAE, Libya and Lebanon. Amman Tech Tuesdays.
Twestival 2011. TedxDeadSea. ArabNet. AmmanTT. Articles.
---
imadnaffa Mar 19 2011

Jordan has a lot of talent in the tech. and social media arenas that the rest of the world need to hear about and engage with. We will highlight many of them here and update periodically.

Thank you.

Imad
---