Infographs
The American identity according to social media #infographic. What can we learn about the people of America from statistical data?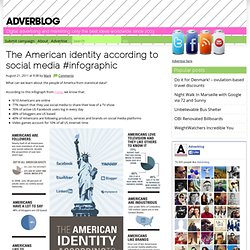 According to this infograph from Hasai, we know that: 9/10 Americans are online77% report that they use social media to share their love of a TV show70% of active US Facebook users log in every day48% of bloggers are US based40% of Americans are following products, services and brands on social media platformsVideo games account for 10% of all US internet time.
5 Things people should know about Android vs. iPhone. Through the years, mobiles phones have several significant purposes.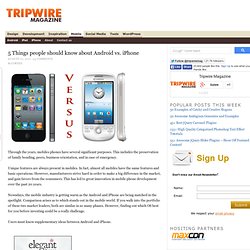 This includes the preservation of family bonding, peers, business orientation, and in case of emergency. Unique features are always present in mobiles. Infographic Tweets | Imad Naffa Twitter. What Annoys People About Emails? [Infographic] Email, the never ending communication media through which everyone has succeeded and will be successful forever.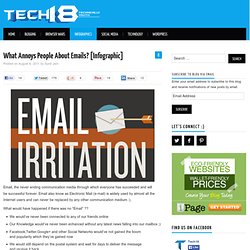 Email also know as Electronic Mail (e-mail) is widely used by almost all the Internet users and can never be replaced by any other communication medium :). What would have happened if there was no "Email" ?? We would've never been connected to any of our friends onlineOur Knowledge would've never been enhanced without any latest news falling into our mailbox ;)Facebook,Twitter,Google+ and other Social Networks would've not gained the boom and popularity which they've gained nowWe would still depend on the postal system and wait for days to deliver the message and receive it back But I'm thankful to all the technicians and Engineers who has provided Email service to us and in 1971 the first Email (ARPANET) was sent and successfully received, which was the start of the Internet Revolution.
How the deficit got so big. The US continues to rack up more and more debt, with a deficit in the trillions.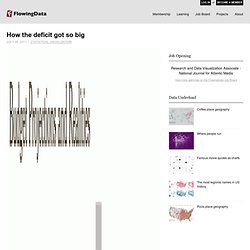 But how did we get here? Teresa Tritch for The New York Times examines: In 2001, President George W. Bush inherited a surplus, with projections by the Congressional Budget Office for ever-increasing surpluses, assuming continuation of the good economy and President Bill Clinton's policies. But every year starting in 2002, the budget fell into deficit. Cisco Reminds Us Once Again How Big The Internet Is Getting - Arik Hesseldahl - Enterprise. One of the well-worn buzz phrases in tech that re-surfaces from time to time is "The Internet of Things."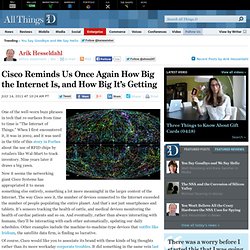 When I first encountered it, it was in 2002, and it was used in the title of this story in Forbes about the use of RFID chips by retailers like Wal-Mart to track inventory. Nine years later it draws a big yawn. Now it seems the networking giant Cisco Systems has appropriated it to mean something else entirely, something a lot more meaningful in the larger context of the Internet. The way Cisco sees it, the number of devices connected to the Internet exceeded the number of people populating the entire planet.
A Few Rules for Making Homemade Infographics. Like many other fans of infographics, we were excited about today's launch of Visual.ly, a site that helps normal folk create infographics.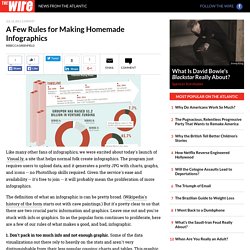 The program just requires users to upload data, and it generates a pretty JPG with charts, graphs, and icons -- no PhotoShop skills required. Given the service's ease and availability -- it's free to join -- it will probably mean the proliferation of more infographics. The definition of what an infographic is can be pretty broad. The Imperfections of the U.S. Judicial System. I figured this infographic would be appropriate given the recent controversy in the Casey Anthony trial.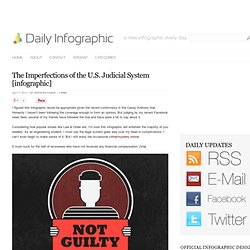 Honestly I haven't been following the coverage enough to form an opinion. But judging by my recent Facebook news feed, several of my friends have followed the trial and have quite a bit to say about it. Considering how popular shows like Law & Order are, I'm sure this infographic will entertain the majority of you readers. UPS vs. FedEx: Surprising Stats Compared. Every other day or so I get a shipment from some producer, publisher or as of lately, someone who wants Bit Rebels to review their gadgets.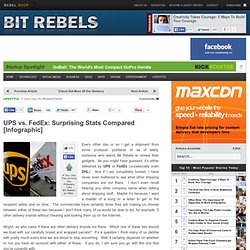 As you might have guessed, it's either delivered by UPS or FedEx (occasionally even DHL). And if I am completely honest, I have never even bothered to see what other shipping companies are out there. I don't even recall hearing any other company name when talking about shipping stuff. Maybe it's because I want a master of a song or a letter to get to the recipient safely and on time. 10 Commonly Misunderstood Words. My friends and I are self-professed grammar geeks.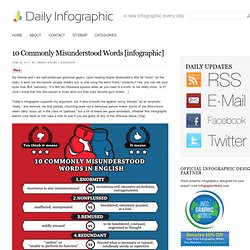 Upon hearing Alanis Morissette's 90s hit "Ironic" on the radio, a worn out discussion usually breaks out: is she using the word "ironic" correctly? Yes, you can roll your eyes now. But, seriously, "It's like ten thousand spoons when all you need is a knife" is not really ironic, is it? (And I know that this discussion is more worn out than your favorite gym shorts…) Today's infographic supports my argument, but it also schools me against using "literally" as an emphatic "really," and reminds me that politely chuckling does not a bemused person make. The Forex Market Explained. Although the stock market gets all the publicity, trading currencies in the Forex market is a little different than trading a regular company's stock.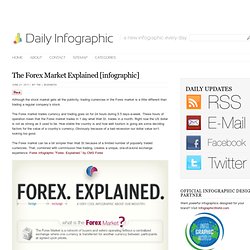 The Forex market trades currency and trading goes on for 24 hours during 5.5 days-a-week. These hours of operation mean that the Forex market trades in 1 day what Wall St. trades in a month. Right now the US dollar is not as strong as it used to be. Not Maid of Money. This summer presented a perfect opportunity for me to see behind the curtain of a typical wedding (and laugh hysterically at what I saw) as the movie Bridesmaids opened and one of my good friends was maid of honor in a wedding.
Art parodies life, as so often happens, and my friend basically was Kristen Wiig…without the loser boyfriend and the food poisoning. She spent, stressed, and visited many sketchy themed stores. Today's infographic breaks down the expenses of a typical bridesmaid as well as issuing some sage advice for both Bridezillas and would-be bridesmaids. 10 Astounding Infographics Comparing Money Matters Around the World.
47 Flares Google+ 2 Twitter 31 Facebook 4 Reddit 1 StumbleUpon 1 Pin It Share 0 LinkedIn 8 inShare8 47 Flares × It goes without the saying that comparing wealth and spending in different countries is almost impossible: people work, earn and even spend differently – moreover, their ways of life and views can be too different to compare. 20 Examples Of Infographs That You Don't See Every Day | I think we all know what an infograph is, and nowadays they are increasingly popular. The bad thing is that almost all of them are becoming boring and very similar. In this article I have collected 20 infographs that are very unique design and also interesting subjects. Twitter Dots: Mapping all Tweets for a specific Keyword Twitter Dots translates individual tweets as simple dots on a geographical world map. It is as simple as that. Diagramly – A Handy Tool For Creating Quick Flowcharts.
The best thing about Diagramly is how accessible it is. You just click a URL, and you're in. There's no download, no account registration, and you don't even need Flash to use it. Chinese: The New Dominant Language of the Internet. New York Times op-ed columnist Nicholas Kristof recently argued that "[E]very child in the United States should learn Spanish, beginning in elementary school; Chinese makes a terrific addition to Spanish, but not a substitute." As more parents encourage their kids to study Chinese, and more schools – both public and private – begin offering Chinese language classes, it might seem that Americans are neglecting a language with far more day-to-day applications: Spanish. The reality, however, is that Spanish remains the most studied foreign language in the US [PDF]; and enrollment in Chinese courses has skyrocketed because of China's ever-increasing global influence. Left Handed Facts 7 Stats. How Does the Brain Retain Info?
Women in Business. The Anatomy Of An Infographic. Why It Pays To Be Bilingual. Top 3 Reasons to Spice Up Language Learning. InfoGraphic Designs: Overview, Examples and Best Practices. Tipping Etiquette Around the World. What Shapes Our Language? 16 Facts About Sleep. 20 things that happen in 1 minute. How To Create Outstanding Infographics. A Guide to S&P's Latest Credit Ratings by country. The Coming Water War- InfoGraph. Are We Wired For Mobile Learning? Cool Infographics - Blog.
Do You Know The Real Cost Of Social Media? Social Media Graphics. Visualization. Infographic. Why America's Healthcare Sucks. Current State of Social Networks Infographic. Small Businesses & Social Media Use. DataViz.
What Are The Hardest Languages To Learn? [INFOGRAPHIC] How To Train Yourself to Speed Read. Coca Cola World- Infograph. Consumer Spending InfoGraph. Tallest Mountain to Deepest Ocean Trench | Our Amazing Planet. 10 Awesome Tools To Make Infographics.
---
littletreegirl Mar 6 2012

Hey thank you are you with our tree? if not would you like to be you are very awesome

webnetworkengineers Mar 3 2012

I joined a team that will be making infographs, so your Pearl comes at a perfect time. Thanks
---