Asia
Imad Naffa (imadnaffa) Twitter tweets related to: Asia, Rise, Tedindia, Hans, Rosling and more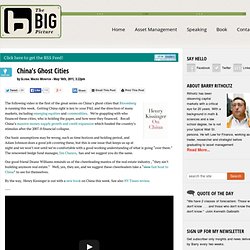 China's Ghost Cities
The following video is the first of the great series on China's ghost cities that Bloomberg is running this week. Getting China right is key to your P&L and the direction of many markets, including emerging equities and commodities . We're grappling with who financed these cities, who is holding the paper, and how were they financed. Recall China's massive money supply growth and credit expansion which funded the country's stimulus after the 2007-8 financial collapse. Our basic assumptions may be wrong, such as time horizon and holding period, and Adam Johnson does a good job covering these, but this is one issue that keeps us up at night and we won't rest until we're comfortable with a good working understanding of what is going "over there." The renowned hedge fund manager, Jim Chanos , has and we suggest you do the same.
by Michael Schrage | 11:10 AM March 1, 2011 In the wake of uprisings in Tunisia, Egypt and Libya , China briefly shut down LinkedIn access . Someone had apparently tried to organize an online discussion on a topic that offended the authorities. The social medium doesn't matter. Don't mess with the Great Firewall of China .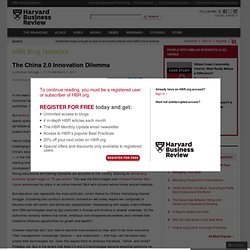 China 2.0 Innovation Dilemma
Ogilvy has released an infographic detailing the major social media players and their Chinese counter parts. Although the infographic was first published six months back, the rise of services like Groupon and Quora in the west and Tencent in China rendered the previous infographic some what irrelevant. According to the new infographic, the online trade segment is competed by eBay, Taobao and 360 buy.
Social Media Landscape In China [Infographic]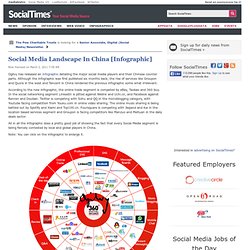 It's Scary How Much Cheaper America Is Than China