Trailers
ComingSoon.net: Movie Trailers, New Movies, Upcoming Movies, 2011 Movies, Films, DVDs, TV, Videos, Clips. Ytscreeningroom. The YouTube Screening Room is a platform for top films from around the world to find the audiences they deserve.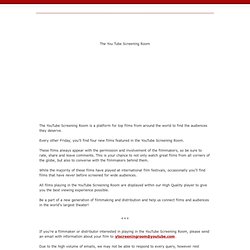 Every other Friday, you'll find four new films featured in the YouTube Screening Room. These films always appear with the permission and involvement of the filmmakers, so be sure to rate, share and leave comments. This is your chance to not only watch great films from all corners of the globe, but also to converse with the filmmakers behind them.
While the majority of these films have played at international film festivals, occasionally you'll find films that have never before screened for wide audiences. All films playing in the YouTube Screening Room are displayed within our High Quality player to give you the best viewing experience possible. YouTube - Broadcast Yourself. Browse new movie trailers, videos, and clips from Yahoo. TrailerSpy - New Movie Trailers, TV Trailers, Game Trailers, Book Trailers. Movie Trailers | Previews | Movie Clips | Video.
---