Coocktails_
Yelptini by msernst - Ingredients: Gin, Sour mix, Cranberry juice, Lime. Almost Heaven recipe. Lime Cordial Recipe at Epicurious. Screaming Orgasm Cocktail Recipe. Ingredients: Liquid volume = 150ml* Alcoholic units = 3* Alcohol by volume (ABV) = 17.5%*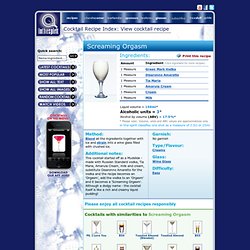 Apple Martini (USA version) Cocktail Recipe. Ingredients: Liquid volume = 93.75ml* Alcoholic units = 3* Alcohol by volume (ABV) = 27.3%* * Please note: Volume, units and ABV values are approximations only.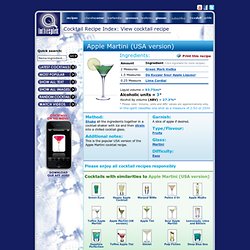 Fruit Liqueurs. Fruit liqueurs Substitutes: fruit wine OR fruit syrup OR extracts (use much less)Varieties:apricot liqueur Notes: This liqueur tastes like both apricots and almonds.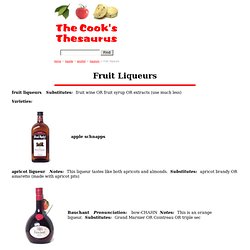 Substitutes: apricot brandy OR amaretto (made with apricot pits)blue curacaoChéri Suisse = Cheri Suisse Pronunciation: share-ee SWEESE Notes: This is a chocolate and cherry flavored liqueur. It's often mixed with milk. Substitutes: chocolate liqueur cranberry liqueur Notes: Boggs is a well-regarded brand. Summer Cocktails - Fruit Cocktails. Cocktail recipes. How to Make Bartender Lime Mix. Bartenders use lime mix or a limeade concoction to prepare several varieties of mixed alcoholic drinks.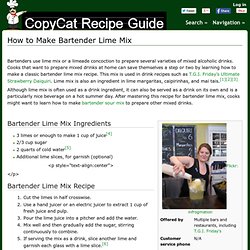 Cooks that want to prepare mixed drinks at home can save themselves a step or two by learning how to make a classic bartender lime mix recipe. This mix is used in drink recipes such as T.G.I. Friday's Ultimate Strawberry Daiquiri. Lime mix is also an ingredient in lime margaritas, caipirinhas, and mai tais.[1][2][3]
---