Crafts for future children lol!
Jkmh m
Crafty Ideas / Cut the bottoms off of two Coke bottles. Glue zipper inside. Instant kids' snack container - or a frog :) On the Eigth Day of Christmas...8 Paper Dolls. Weave a Jump Rope | No-sew Projects. DIY Pretend Play Cooktop from Recyclables | Frugal Family Fun Blog. I made a little pretend cooktop from recyclables, and it's been a big hit around here!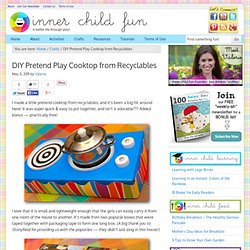 It was super quick & easy to put together, and isn't it adorable??? Added bonus — practically free!
---