Society
Get flash to fully experience Pearltrees
Distrarre, rinviare, emozionare, dire e non dire.
By STEVEN JOHNSON In the year following the 2004 tsunami, the Indonesian city of Meulaboh received eight neonatal incubators from international relief organizations.
In the last few years, advanced mapping tools have allowed businesses to use data to increase the efficiency of their deliveries. Where companies used to plan deliveries on paper and in small teams, they now use advanced mapping software, routing data and live traffic information.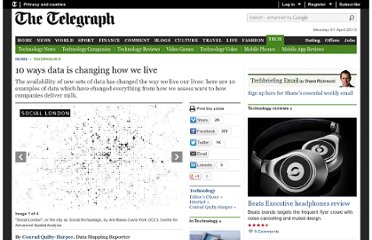 There is a growing body of solid research-based evidence that contradicts the popular view of the digital native as part of a technologically-savvy generation that differs fundamentally from previous generations. The latest evidence comes from a special issue of the Journal of Computer Assisted Learning, Desribing or Debunking: The Net Generation and Digital Natives. The four articles in the special edition reject the popular view as a gross oversimplification and argue that the issues at play are more complex and nuanced that we have been led to believe. The articles show that generation is not a useful or accurate variable and that technology adoption and use is much more varied within the net generation age group than the popular discourse suggests. For example, in the article, Beyond Natives and Immigrants: Exploring Types of Net Generation Students, Kennedy et al. identified four statistically robust types of student technology users: Power, Ordinary, Irregular, Basic.