Training
Welcome! If you want to lose weight, gain muscle, increase energy levels or just generally look and feel healthier you've come to the right place.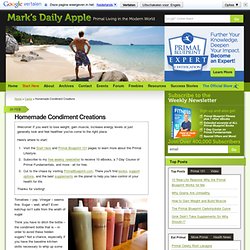 Homemade Condiment Creations
Girl Gone Primal
Welcome!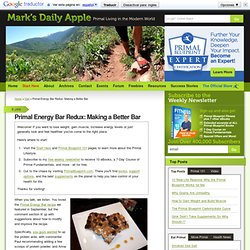 Primal Energy Bar Redux: Making a Better Bar
Category Archives: Paleo Recipes
Register You do not have permission to view this directory or page due to the access control list (ACL) that is configured for this resource on the Web server. Please try the following: Contact the Web site administrator if you believe you should be able to view this directory or page.
Paleodiet Foods
Paleo Diet Recipes | Home of delicious paleo recipes
It can be hard to always come up with original meal ideas or not to slip off the Paleo wagon from time to time from lack of options or a pantry that still contains some not so good food choices. I believe in making easy for people not only to understand what foods are healthy and what foods are not and why, but also to grasp what it entails to be eating Paleo on a day to day, consistent basis. The best way to represent a typical paleo eating plan is to give out a sample of a week or two worth of food. Remember that you can skip a meal whenever you feel like it and the paleo diet is really not about eating three square meals per day, quite the contrary. If you decide to fast for a day, that's perfectly fine as well, but I've included three meals and a snack every day just to give you enough options to play around with it.
14 Days Paleo Meal Plan
We try hard to think of everything at Paleo Plan. We've worked with our members to provide Meal Plans that are easy to cook during the week, but that are also interesting and flavorful. We also try to offer creative and slightly more complex recipes during the weekend, when you may have more time to dedicate to your meals. And from the feedback of our users, we've even instituted a Flex Day, which is a day that is simple to leave out of your plan, either for a business trip, a holiday, or simply a scheduled cheat day. We know you may not want to follow the plan every day, so we've made it simple to adjust. Below, we've provided a sample week's downloads.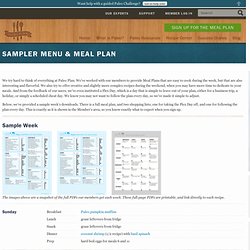 Sampler Menu & Meal Plan
Triathlon Coach - Jesse Kropelnicki
Box Jump | Gymnastics WOD
CrossFit Workouts