Colors
QR Code Generator. Check My Colours - Analyse the color contrast of your web pages. Contrast-A: Find Accessible Color Combinations. Color Scheme Designer 3. Color conversion (RGB / CMYK / HSV / YUV / ...) Do you like these tools and you want to do something back?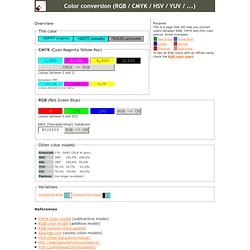 I have an Amazon wishlist here! Keywords amarelo, amarillo, azul, bianco, blanc, blanco, blau, blaues, blauw, bleu, blu, blue, branco, chiaro, cinzento, claro, cmyk, code, color, colour, couleur, cyaan, cyan, cymk, dark, degrade, donker, Dunkles, escuro, foncé, geel, gelb, gelbes, giallo, grey, gray, monochromen, graues, green, grigio, grijs, gris, groen, grun, grünes, helles, jaune, key, kleur, kobalt, léger, licht, ligero, light, magenta, negro, nero, noir, opaque, oscuro, pantone, pastel, pourpre, preto, púrpura, purpurrotes, red, rgb, rojo, rood, rosso, rot, rotes, rouge, roxo, schwarzes, scuro, space, spectrum, tint, verde, vermelho, vert, viola, weißes, wit, yellow, zwart Page provided by Peter Forret - Remarks to tools@forret.be.
Web tools by Peter Forret. Kuler.
---