Ukulele
Use this free online ukulele tuner to tune your ukulele. This online tuner is special because you are able to change the notes to what you want, this is especially useful if you are using alternate ukulele tunings. The default tuning is the standard GCEA ukulele tuning. If you have a Banjo Ukulele, then the tunings are still the same, so this will work.
As you play the bum-ditty, keep in mind that in addition to playing the melody you are also strumming the chords, much like a rhythm guitar player plays chords.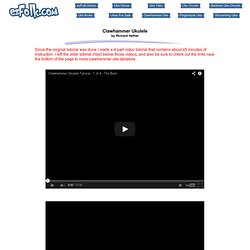 playing clawhammer ukulele
Ukulele Songs - Sealab 2021 Theme Song by Julie Stepanek - Ukule
"Elevate Me Later" by S. Malkmus, Pavement
Ukulele Songs - Elevate Me Later by S. Malkmus, Pavement - Ukule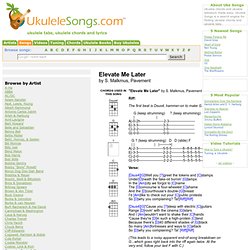 Curt Sheller and Curt Sheller Publications . A small (me, myself and I) independent, by choice, publishing company catering to the needs of musicians, guitar players and ukulele players worldwide. Offering the resources and information needed to develop as a musician. Curt Sheller Publications, created in 1995, has been on the web for over 15 years. I have over 40 years of playing experience and have been involved in private music education for the past 20 years. Taking advantage of my jazz guitar skills, I began pursuing the potential of the ukulele.
Curt Sheller - Online Lessons - Ukulele
UKULELE BOOGALOO presents "BIZARRE LOVE TRANGLE"
"Bizarre Love Triangle" by New Order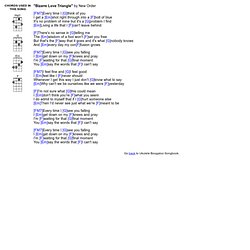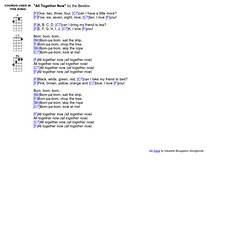 UKULELE BOOGALOO presents "ALL TOGETHER NOW"
"All Together Now" by the Beatles [F] One, two, three, four, [C7] can I have a little more?
"After Hours" by the Velvet Underground Verse 1: If you [Bb] close the [G7] door The [Cm] night could last for [F] ever.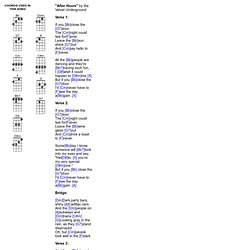 UKULELE BOOGALOO presents "AFTER HOURS"