Organic style
Seth Peterson Cottage Conservancy -- Designed by Frank Lloyd Wright - Mirror Lake, Wisconsin. Annunciation Greek Orthodox Church, Milwaukee, Wisconsin- Fallingwater | Home. A.D. German Warehouse. A.D.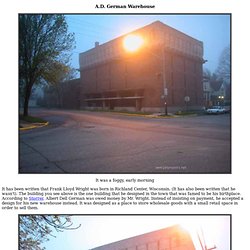 German Warehouse It was a foggy, early morning It has been written that Frank Lloyd Wright was born in Richland Center, Wisconsin. (It has also been written that he wasn't). Price Tower. Unity Temple: Our Building. Frank Lloyd Wright's Unity Temple is our historic home.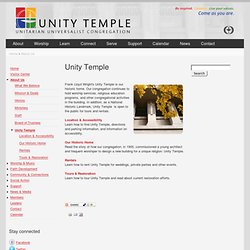 Our congregation continues to hold worship services, religious education programs, and other congregational activities in the building. In addition, as a National Historic Landmark, Unity Temple is open to the public for tours and rentals. Unity Temple: Frank Lloyd Wright's Modern Masterpiece. At Wingspread | The Johnson Foundation at Wingspread. The community issues we choose to tackle serve as a microcosm of the challenges facing the nation as a whole.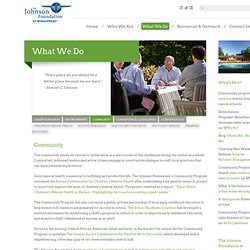 Committed, informed leaders and active citizens engage in constructive dialogue to craft local solutions that can have national implications. Good mental health is essential to fulfilling and productive life. The Johnson Foundation's Community Program convened the Racine Collaborative for Children's Mental Health after undertaking a six-month research project to more fully explore the issue of children's mental health. The project resulted in a report: "Top of Mind: Children's Mental Health in Racine – Highlighting facts and uncovering urgent needs." The Community Program has also convened a public-private partnership of local early childhood educators to help ensure 4-K students are prepared for success in school.
Welcome To The Hanna House. Kentuckknob.
---