JDR
Guide to Caprica City
Welcome Caprica City Visitors Guide Welcome to the greatest city in the Twelve Colonies. Here's how we're going to make your stay even better. Learn the ins and outs of Caprica City's streets, and how to navigate them without help from the gods. Looking for a lift on the MAGLEV?
From SCJU Wiki Brief Account of Colonial History For further Information on the Helios System: Helios System
The Twelve Colonies - SCJU Wiki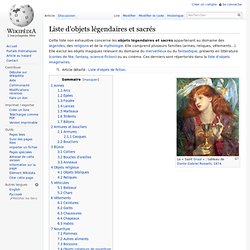 Un article de Wikipédia, l'encyclopédie libre. Cette liste non exhaustive concerne les objets légendaires et sacrés appartenant au domaine des légendes , des religions et de la mythologie . Elle comprend plusieurs familles (armes, reliques, vêtements…). Elle exclut les objets magiques relevant du domaine du merveilleux ou du fantastique , présents en littérature ( contes de fée , fantasy , science-fiction ) ou au cinéma. Ces derniers sont répertoriés dans la liste d'objets imaginaires . Armes [ modifier ]
Liste d'objets légendaires et sacrés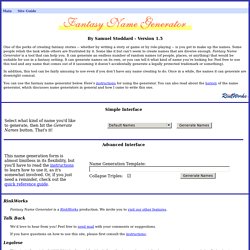 By Samuel Stoddard - Version 1.5 One of the perks of creating fantasy stories -- whether by writing a story or game or by role-playing -- is you get to make up the names. Some people relish the task while others are frustrated by it. Some like it but can't seem to create names that are diverse enough. Fantasy Name Generator is a tool that can help you.
Results: Shriekingslime Flamebreeze Secret duke Woman and Duke Inn Darknesstree No Shrieking Mirrors Ten Four Slimes Gulf and Duke Black spire Rich glacier Instructions: Select a template from the drop down list, select the number of times you want to run the generator, and hit "Go" to create a random list of ideas, people and place names. Alternatively, you can pick from the list lower on the page instead of using the drop down select. About:
Elzevir - home
Noveon - home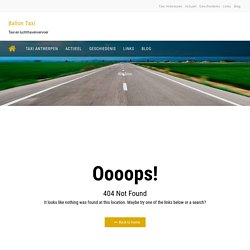 Exil - Intrigues et mystères dans la Cité d'Acier
Le Jeu Exil est un jeu de rôle que l'on pourrait qualifier de « Dark Steampunk ». Son univers n'a pas pour cadre la Terre, mais une lointaine planète, Forge.
The Arcanum of Matter deals with the transmutation and shaping of the Fallen World 's various forms of physical matter. Mages proficient in this Arcanum can repair broken objects, transmute substances into other substances, shape solids, liquids, and gases as they please, annihilate matter, and even create matter out of nothing. It is primarily used by the Moros . Matter is one of the ten Arcana of Mage: The Awakening , and the Gross ruling Arcana of Stygia .
Matter (MTAw) - White Wolf Wiki - World of Darkness, Exalted, Trinity Universe and Sword & Sorcery